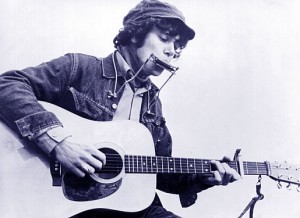 1965, Pye Records announced  signing of the "British Bob Dylan," when they added Donovan to the label. The Scottish singer-songwriter produced a series of hit albums and singles between 1965 and 1970 and became a friend of leading pop musicians including Joan Baez, Brian Jones, and The Beatles. He influenced John Lennon when he taught him a finger-picking guitar style in 1968.
1965, The Who audition for BBC Radio's Light Programme. As The Detours, they had failed a BBC audition 10 months before. This time they pass with the approval of four of the seven judges. The other three call them "ponderous and unentertaining," "at the limit of their capablilties," and "overall not very original and below standard."
1967, Fifteen police officers raided Redlands the West Sussex home of Rolling Stone Keith Richards during a weekend party. The police who were armed with a warrant issued under the dangerous drugs act took away various substances for forensic tests. George and Pattie Harrison had been at the house, but it was said that the police waited for them to leave before they raided the house in order not to bust the holder of an MBE.

1967, The Who appeared at the Starlite Ballroom in London.
1968, Billed as "Tour 60 cities in 66 Days," The Jimi Hendrix Experience appeared at the Centre Arena, Seattle, Washington.
1968, Pink Floyd spent the day at EMI Studios on Abbey Road in London at a recording session for A Saucerful of Secrets.
1969, Janis Joplin and her Kozmik Blues Band perform at the Fillmore East in New York to mixed reviews.
1970, The Grateful Dead performed a club date at Ungano's in New York.
1970,  John Lennon performed "Instant Karma" on BBC TV's Top Of The Pops, becoming the first Beatle to have appeared on the show since 1966. Lennon wrote, recorded, and mixed his new single, all in one day. It ranks as one of the fastest-released songs in pop music history. Lennon later stated, "I wrote it for breakfast, recorded it for lunch, and we're putting it out for dinner."
1970, The Guess Who performed at Independence Arena in Charlotte, North Carolina.
1971, The Allman Brothers Band at Furman University in Greenville, South Carolina
1972, Al Green went to number one on the singles chart with "Let's Stay Together," his only chart topper. Tina Turner took the song to number 26 in 1984.
1972, Genesis appeared at Guildhall, in Portsmouth, England.
1972, David Bowie played at the Great Hall, Imperial College in London.
1972, Pink Floyd's UK tour stops at City Hall, in Sheffield, England. The set list: One of These Days / Careful With That Axe, Eugene / The Dark Side of the Moon / Set The Controls for the Heart of the Sun // encore: Echoes.
1974,   The fabled rock club The Bottom Line opens in New York
1975, Led Zeppelin played at Madison Square Garden, New York. Tickets were $7.50.
1977, Blondie, Tom Petty & the Heartbreakers and The Ramones all appeared at the Whisky-A-Go-Go in Los Angeles, California.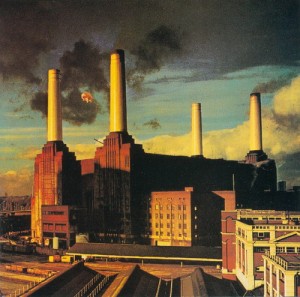 1977, Pink Floyd released their tenth studio album Animals in the US, where it reached number three in the charts. The album's cover image, a pig floating between two chimneys on Battersea Power Station, was conceived by bassist Roger Waters and realized by long-time design and photographic collaborators Hipgnosis.
1977, Styx appeared at the Lakeland Civic Center, Lakeland, Florida.
1977, The Police recorded their first single, "Fall Out" for £150 at Pathway Studios, London, England.
1977, Elvis Presley performed at the Hollywood Sportatorium, Pembroke Pines, Florida.
1978, Rush appeared at the Birmingham Odeon, England, promoting their new single "Closer To The Heart."
1979, Frank Zappa played at the Apollo Theatre, Manchester, England.
1980, The Eagles performed at the Mississippi Coast Coliseum, Biloxi, Mississippi.
1984, Prince & The Revolution appeared at Maple Leaf Gardens, Toronto.
1997, David Bowie received a star on the Hollywood Walk of Fame.
1997, U2 held a press conference in the Lingerie Department at the Greenwich Village Kmart store in Manhattan, New York City, to announce their Pop Mart world tour. The tour was set to start in Las Vegas on April 25th.
2000, US blues singer Screamin' Jay Hawkins died aged 70. A Golden Gloves boxing champion at 16, he was married nine times, spent two years in jail, was temporary blinded by one of his flaming props on stage in 1976. He recorded "I Put A Spell On You" in 1956, covered by The Animals, Creedence Clearwater Revival, and Nina Simone.
2003, Former Doors drummer John Densmore took out legal action against The Doors keyboard player Ray Manzarek and guitarist Robby Krieger for breach of contract, trademark infringement and unfair competition. The band had reformed with Ex- Cult singer Ian Astbury and former Police drummer Stewart Copeland. Densmore said "It shouldn't be called The Doors if it's someone other than Jim Morrison singing."
2008, Ronald Isley's appeal against a three-year jail term for tax fraud was rejected by a US court. The 65-year-old singer of the Isley Brothers argued against being imprisoned in an Indiana jail on the grounds of age and poor health. The court heard he cashed royalty checks belonging to his brother O'Kelly, who died in 1996 and spent millions of dollars made from undeclared performances on a yacht and two homes. Isley was ordered to pay more than $3.1 million (£1.62m) to the US tax service for "pathological" evasion.
Born on February 12: Gene McDaniels, singer-songwriter (1935); Ray Manzarek, The Doors (1939); Joe Schermie, bass, Three Dog Night (1945); Stanley Knight,  Black Oak Arkansas (1949); Steve Hackett, Genesis (1950); Michael McDonald, Doobie Brothers (1952); Jim Creeggan, Canadian singer-songwriter, bass, Barenaked Ladies, The Brothers Creeggan (1970)
Link to Today in Rock History main page.
About Post Author