LIMITED RUN VINYL – FIRST TIME ON VINYL, VOLUME ONE COMPILATION FEATURES IDLE CURE, TRYTAN, VISION, OZ FOX, RAY PERRA, PHIL COLLEN

Preorder Launches Jan. 20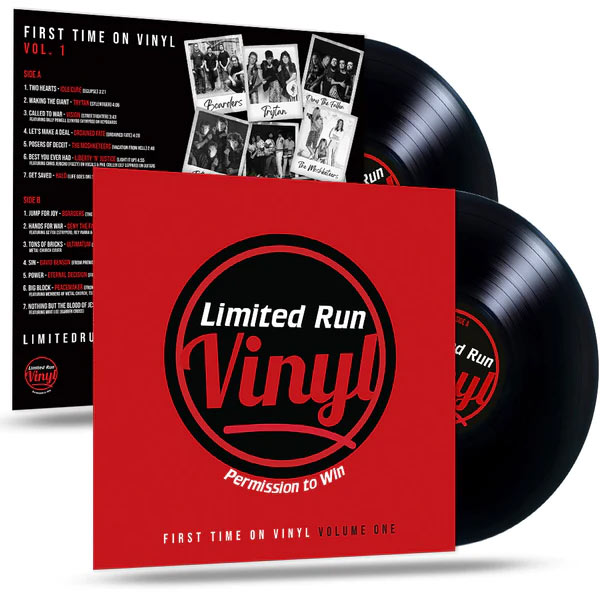 NEWS SOURCE: Girder
January 18, 2023
"Limited Run Vinyl: First Time on Vinyl, Vol. 1" launches preorder through Girder Music on January 20th. The limited release will only have 175 copies made!
What Is This LRV: First Time On Vinyl Vol. 1?
It's a 14 band/14 track compilation of favorite tracks off favorite albums that will likely never be reissued on vinyl – ever! In some cases, tracks were left off vinyl reissues because of time constraints and we included them here to reward fans for their support of LRV releases! Thank you! We love you and your support means everything!

These compilations are all 100-200 copy releases, so if you want a copy of this exclusive, rare, and never to be repressed compilations – grab it now. You won't want to see these listed on eBay once they are all sold out! 
What Is So Special About LRV: First Time On Vinyl Vol. 1?
First and foremost, no medium of listening to music – including CD/Digital/Steaming/Cassette – has the dynamic warmth of majestic heavy-weight VINYL. Yes, CD is the largest, loudest, and most perfect sounding medium for music, but vinyl is SPECIAL! The needle in a vinyl groove will give you the most authentic sound ever for your favorite songs. Nothing is as warm and dynamic as vinyl and that's why we bring you these special tracks on this very special medium we call VINYL!

Classic songs? Yes! Rare & obscure songs? Yes! Big names? Yes! Humongous names? Super yes! Songs you will literally never hear on vinyl anywhere else ever? Heck yeah!

Stadium Rock AOR? Yep! Thrash Metal on par with Slayer and Metallica? Of course. Classic Heavy Metal? Yep. Mainstream and Christian artists? You bet! This album has greatness on every single track!

Vision features Billy Powell of Lynyrd Skynyrd

L'NJ features Chris Jericho of Fozzy on vocals and Phil Collen of Def Leppard on guitars

Deny the Fallen features Oz Fox of Stryper, Rey Parra & Jonathan Johnston of Sacred Warrior

Peacemaker features members from Metal Church, Trans-Siberian Orchestra, House of Lords, Yngwie, Anthrax, and Tango Down

Rock Power Praise features Mike Lee of Barren Cross

The Ultimatum track (Metal Church cover) features NoLifeTilMetal's Scott Waters on vocals!

"Ben" makes his first appearance on a 12×12 full color insert along with a masterful LRV photo collage.

Remastered for Vinyl by Rob Colwell of Bombworks Sound

Did we mention this is only 189 copies? We got shorted 11 units!
Where Can I Buy LRV: First Time On Vinyl Vol. 1?
Great question! This compilation is a first-time limited run collaboration between GirderMusic.com and BoonesOverstock.com and can only be purchased in one of those two places.
ABOUT THE ALBUM
Limited Run Vinyl's First Time On Vinyl: Volume 1 is a collaboration between GirderMusic.com and BoonesOverstock.com to bring fans classic, rare, and excluded songs that have never before been on vinyl and likely never will ever be on vinyl again! This is a limited pressing of just 189 copies (we got shorted 11 copies!), so it would be a mistake to think affordable copies will be available 6-12 months after the album releases. With tracks that involve members of Lynyrd Skynyrd, Def Leppard, Fozzy, Stryper, Sacred Warrior, Barren Cross, Metal Church, TSO, House of Lords, Yngwie, Anthrax, and Tango Down you know the star power is exceptional on this vinyl treasure. Everything has been remastered for vinyl by Rob Colwell of Bombworks Sound and it even includes a full-color 12×12 insert with a photo collage of LRV releases and the very first vinyl appearance of Limited Run's spokesman, "Ben" (brought to you by Ben's regret :-). 14 tracks makes this a full album of awesomeness with everything from the stadium rock AOR of Whiteheart to the intense gritty Overkill-like thrash metal of Ultimatum this is everything music fans have been dreaming about. The album is available for purchase in two places only – BoonesOverstock.com and GirderMusic.com. Don't delay in scooping up your copy of this limited run album and end up living in regret when you see copies on eBay going for sky-high collector prices. As always, Limited Run Vinyl is giving you Permission to Win!
Track Listing
SIDE 1 (26:49)
TWO HEARTS by Idle Cure (from Eclipse) 3:21

WAKING THE GIANT by Trytan (from Sylentiger) 4:03

CALLED TO WAR by Vision (from Streetfighter) featuring Billy Powell (of Lynyrd Skynyrd) on keyboards 3:43

LET'S MAKE A DEAL by Ordained Fate (from Ordained Fate) 4:33

POSERS OF DECEIT by The Moshketeers (from Vacation from Hell) 2:48

BEST YOU NEVER HAD by Liberty 'n Justice featuring Chris Jericho of Fozzy on vocals and Phil Collen of Def Leppard on guitars 4:56

Get Saved by Halo 3:45
SIDE 2 (25:28)
 JUMP FOR JOY by Boarders (from The World Hates Me) 4:12

 HANDS FOR WAR by Deny the Fallen (from Symptoms of Eternity) featuring Oz Fox, Rey Parra & Jonathan Johnson of Sacred Warrior 3:24

 TON OF BRICKS by Ultimatum (from Lex Metalis) 3:55 (cover of Metal Church)

 SIN by David Benson (from Premonition of Doom) 3:44

 POWER by Eternal Decision (from Eternal Decision) 3:16

 BIG BLOCK by Peacemaker (from Concrete & Terror) 3:39
(Featuring members from Metal Church, TSO, House of Lords, Yngwie, Anthrax, and Tango Down)

NOTHING BUT THE BLOOD OF JESUS (Rock Power Praise – The Hymns Vol 1) featuring Mike Lee of Barren Cross 3:18
###

For more info on Idle Cure, visit the JFH Artists Database.


About Post Author