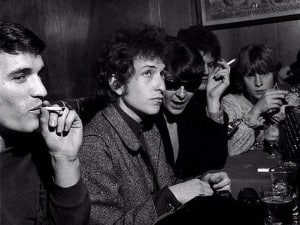 1963, The Beatles recorded a TV appearance on the ABC Television program Thank Your Lucky Stars in Birmingham playing their new single, "Please Please Me". The show was broadcast on January 19th.
1965, The first day of recording sessions for Bob Dylan's Bringing It All Back Home album were held at Studio A, Columbia Recording Studios in New York City. Dylan recorded "Subterranean Homesick Blues," and "It's All Over Now, Baby Blue."
1966, George Harrison and his girlfriend Patti Boyd met up with Mick Jagger and Chrissie Shrimpton at Dolly's nightclub on Jermyn Street in London's west End.
1966, Ringo Starr and John Lennon leave England for a vacation in Trinidad.
1967, Paul McCartney and Ringo Starr both went to the Bag O'Nails Club, London, England to see the Jimi Hendrix Experience.
1967, Pink Floyd plays the UFO, at The Blarney, Tottenham Court Road, in London with Marilyn Monroe films and Dave Tomlin's The Giant Sun Trolley.  The set was filmed by Peter Whitehead.

1968, Johnny Cash played a show, which was recorded, for his forthcoming live album at Folsom Prison, near Sacramento, California in front of 2,000 inmates. When released, the lead single, "Folsom Prison Blues," an update of his 1956 hit, became one of the most famous recordings of his career.
1969, Elvis Presley began a ten day recording session that would produce his final US number one record, "Suspicious Minds."The tracks were laid down at American Sound Studios in Memphis and marked the first time Presley had recorded in his hometown since his Sun Records days in 1956.
1970, Led Zeppelin played at Guildhall, in Portsmouth, England.
1970, Steel Mill, featuring Bruce Springsteen, played at The Matrix in San Francisco, California. Boz Scaggs was the scheduled headliner but he cancelled at that last minute due to illness. Rock critic Philip Elwood, who turned up intending to review Scaggs ended up writing a highly favorable review of Steel Mill for The San Francisco Examiner.
1971, Yes appears at Greens Playhouse, Glasgow, Scotland.
1973, Pete Townshend drags Eric Clapton back into the limelight with two shows at The Rainbow Theatre in London. Pete had discovered Clapton's heroin addiction the previous August and devises a scheme with Clapton's girlfriend's father, Lord Harlech, to force Clapton to work so he can escape his narcotic-induced reclusion. Backing Clapton onstage is not only Pete, but Ron Wood, Steve Winwood, Jim Karstein. Jim Capaldi and Rick Grech. Clapton is late but manages to make it through both shows. They are recorded by Glyn Johns and later released on album.
1973, Slade scored their first number one album with Slayed.
1974, Genesis performs at the Hippodrome, Bristol, England.
1975, Hawkwind appears at Town Hall, Watford, England.
1976, Black Sabbath plays at the Hammersmith Odeon, London.
1977, Queen kicked off a 59-date world tour at Dane County Coliseum in Milwaukee, Wisconsin. Opening act was Thin Lizzy.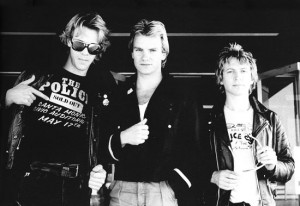 1978, With a budget of only £1,500 ($2,400) borrowed from Stewart Copeland's brother Miles Copeland III, The Police started recording their debut album at Surrey Sound Studios, Surrey, England with producer Nigel Gray. The album Outlandos d'Amour was released in November of that year.
1980, Bob Dylan appears at the Paramount Northwest Theatre, Seattle, Washington.
1984, BBC Radio 1 announced a ban on "Relax" by Frankie Goes To Hollywood, after DJ Mike Read called it 'obscene', a BBC TV ban also followed. The song went on to become a UK number one, and spent a total of 48 weeks on the UK chart.
1986, Sex Pistol members John Lydon, Steve Jones and Paul Cook, as well as the mother of Sid Vicious, sued former manager Malcom McClaren for £1 million ($1.6 million). They settled out of court.
1990, New Kids On The Block had their second and last number one UK single with "Hangin' Tough." They had a further seven top 10 hits by the end of 1991. They broke up after that, but set the scene for numerous boy bands throughout the '90s.
2005, A report showed that more songs had been written about Elvis Presley than any other artist. It listed over 220 songs including "Graceland" by Paul Simon, "A Room At The Heartbreakhotel" by U2, "Calling Elvis," Dire Straits, "Happy Birthday Elvis," Loudon Wainwright III, 'There's A Guy Works Down The Chip Shop Swears He's Elvis," Kirsty MacColl, "I Saw Elvis in a UFO," Ray Stevens. "Elvis Has Left the Building" by Frank Zappa, and "My Dog Thinks I'm Elvis" by Ray Herndon.
2010, Soul singer Teddy Pendergrass died at the age of 59 following a difficult recovery from colon cancer surgery. Pendergrass enjoyed early success with Harold Melvin and the Blue Notes, whose hits included "If You Don't Know Me By Now," before going solo in 1976. He was the first black male singer to record five consecutive multi-platinum albums in the US.
2010, A plaque of The Beatles' iconic yellow submarine, which was stolen six months ago from Liverpool's Albert Dock, was set to be replaced by a new creation. The five foot design featured the faces of John Lennon, Paul McCartney, Ringo Starr and George Harrison peering through its portholes. The new submarine would hang outside the museum dedicated to the band, The Beatles Story. The former plaque has never been found and the thieves had never been caught.
Born on January 13:  John Lees, Barclay James Harvest (1948); Trevor Rabin, Yes (1954) and Don Snow, Squeeze (1957); Jim Paris, bass, Carmel (1957); James LoMenzo, bass, Megadeth, White Lion (1959); Graham McPherson, aka Suggs, Madness (1961); Wayne Coyne, guitar, Flaming Lips (1961)
Link to Today in Rock History archive
About Post Author