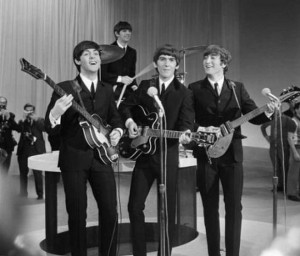 1964, The Beatles appeared on the ATV show Sunday Night At The London Palladium performing "I Wanna Hold Your Hand," "This Boy," "All My Loving," "Money," and "Twist And Shout." The compare for the evening was Bruce Forsyth. When The Beatles appeared on this show on October 13, 1963, their fee had been £250 ($400.) Three months later, their fee was £1,000 ($1600.)
1965, NBC premieres a new pop TV show called Hullabaloo, hosted by Jack Jones. The show's guests include the New Christy Minstrels and a comedian called Woody Allen. In a taped segment, Beatles manager Brian Epstein introduced performances by the Zombies and Gerry & the Pacemakers from London.
1968, The Beatles Film Productions changed its name to Apple Film Limited and Apple Music Limited changed its name to Apple Corps Limited.

1968, Pink Floyd appeared at the University of Aston, Birmingham, England. It is generally accepted that this was the first show to include David Gilmour as a permanent part of the group.  They performed as a five-piece band until Syd Barrett's dismissal.
1969, Led Zeppelin's debut album was released in the UK. Recorded at Olympic Studios in Barnes, London, the album took only about 36 hours of studio time to complete at a cost of just £1,782. Most of the tracks were recorded "live" in the studio with few overdubs. The album spent a total of 71 weeks on the UK chart.
1971, Deep Purple performs at Town Hall, Birmingham, England.
1974, Jim Croce started a five-week run at number one on the US album chart with You Don't Mess Around With Jim.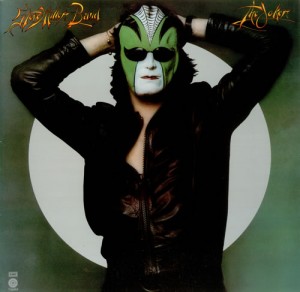 1974, The Steve Miller Band were at number one on the US singles chart with "The Joker," the group's first of three chart toppers. It reached number one on the UK chart in 1990.
1975, KISS appeared at the Paramount Theater in Seattle, Washington.
1975, The Warner Bros. Looney Tunes package tour kicks off in Europe, featuring the Doobie Brothers, Little Feat, Graham Central Station, Bonaroo, Montrose and Tower of Power.
1977, Rolling Stone Keith Richards was fined £750 ($1,275) for possession of cocaine found in his car after the guitarist had been involved in a car crash.
1977, The Police had their first rehearsal, held at drummer's Stewart Copeland's London flat, with Henri Padovani on guitar.
1978, Rush performed at the Nassau Veterans Memorial Coliseum in Uniondale, New York.
1979, Joy Division appeared at Wythenshawe College, Manchester, England.
1981, The Allman Brothers Band played at Calderone Concert Hall, Hempstead, New York.
1983, Swedish percussionist with Traffic, Reebop Kwaku Baah died from a brain hemorrhage in Stockholm, Sweden. Also worked with Eric Clapton, Steve Winwood, Ginger Baker's Air Force, Can and The Rolling Stones.
1996, AC/DC played the first date on their Ballbreaker World Tour in Greensboro, North Carolina. The world tour would last for 11 months finishing on November 30, 1996 in Christchurch, New Zealand.
2003, Singer-songwriter Maurice Gibb from the Bee Gee's died aged 53 in Miami Hospital, Florida following a heart attack during abdominal surgery.
Born on January 12: Long  John Baldry (1941); Cynthia Robinson, Sly and the Family Stone (1946); Chris Bell, Big Star (1951); Blixa Bargeld, Nick Cave And The Bad Seeds (1959); and Zack de la Rocha, vocals, Rage Against The Machine (1970)
Link to the Today in Rock History archives
About Post Author