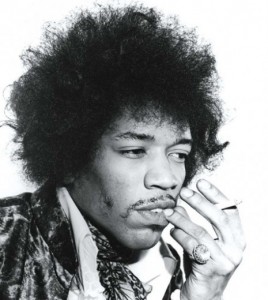 1967: The Jimi Hendrix Experience recorded "Purple Haze." Jimi also signed to the new record label Track Records on this day.
1968: Jimi Hendrix moves into a London townhouse formerly owned by the Messiah's composer George Frederick Handel. The guitarist tells the Daily Mirror that he will "not let the tradition down."
1969:  The Rolling Stones go to number five in the American album charts with their new release Beggars Banquet.
1969: Jethro Tull release their debut album This Was.
1969, Led Zeppelin played at the Fillmore West in San Francisco.

1969, 'Love Is,' by Eric Burdon and The Animals, enters the US charts shortly after the band performs a farewell concert in the British city of Newcastle, where The Animals had begun seven years earlier.
1970, Yes performed at The Olympia Theatre in Paris.
1973, It was confirmed that the forthcoming Rolling Stones tour of Japan had been cancelled, despite record breaking ticket sales. Mick Jagger had earlier been informed that he was banned from entering the country because of a drugs conviction.
1974, Mike Bloomfield appeared at The Egress in Vancouver, British Columbia.
1975, The Alan Freeman BBC Radio 1 show broadcast a Pink Floyd show recorded at the Empire Pool, Wembley, London, England on 16th Nov 1974. The band had played four nights at Wembley on their Dark Side Of The Moon tour and tapes from these shows have been remixed.
1975, Genesis appeared at the Lakeland Theater in Lakeland, Florida on the Lamb Lies Down on Broadway tour.
1975, Led Zeppelin played their first concert in 18 months when they appeared at the Ahoy, Rotterdam, Holland, playing one of two warm-up shows for their forthcoming North American tour. The set list included some new songs: Sick Again, The Rain Song, Kashmir, No Quarter, and Trampled Under Foot.
1977, AC/DC played at Town Hall, Horsham, Australia.
1978: Elvis Costello and the Attractions appeared at Newcastle City Hall, England.
1978, Funkadelic hits number 28 with "One Nation Under a Groove."
1979, The Grateful Dead performed at Nassau Veterans Memorial Coliseum, in Uniondale, New York.
1980, Foreigner appeared at the Oakland-Alameda County Coliseum, Oakland, California.
1985, A Brazilian rock Festival held in Rio, claimed to be the biggest ever staged. The festival featured; Queen, Rod Stewart, AC/DC, Whitesnake, Yes and Iron Maiden.
1992, Nirvana appeared on NBC-TV's Saturday Night Live performing two songs, "Smells Like Teen Spirit" and "Territorial Pissings." Also on this day the group's Nevermind went to number one on the US album chart.
Born on tJanuary 11: Slim Harpo, bluesman (1924) Clarence Clemons (1942) Tony Kaye, Yes (1946); Vicki Peterson, guitar, vocals, The Bangles (1958); and Mary J. Blige (1971)
Link to Today in Rock History archive
About Post Author