NEW YORK TIMES BEST-SELLING AUTHOR & PODCASTER ANNIE F. DOWNS LAUNCHES BRAND NEW PODCAST

LET'S READ THE GOSPELS with ANNIE F. DOWNS launched January 1st, will explore all four Gospels daily with various translations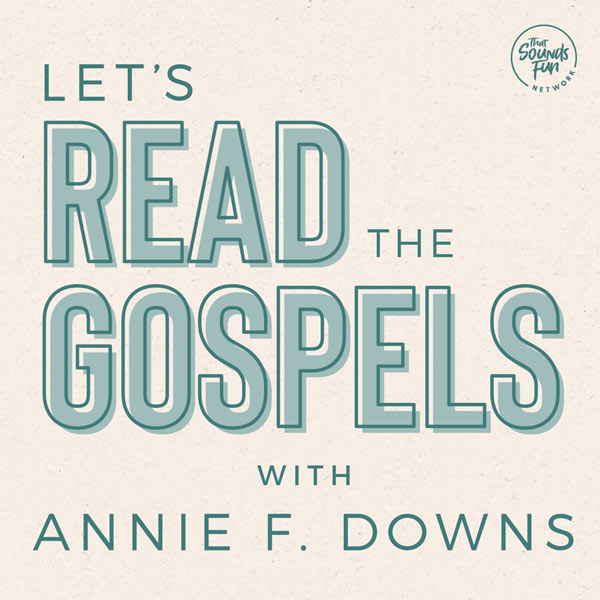 NEWS SOURCE: The Media Collective
January 4, 2023
NASHVILLE, TN….January 4, 2023 – 
New York Times
 best-selling author and podcaster 
Annie F. Downs
has launched a brand new podcast, 
LET'S READ THE GOSPELS with ANNIE F. DOWNS.
 OnJanuary 1st, Downs began a daily exploration of all four Gospels, guiding listeners through a monthly reading of Matthew, Mark, Luke and John. Religion News Service covered new Bible podcasts prior to the launch, with Downs commenting on how while her inspiration came out of the confusion of 2020, the Bible was grounding in the midst of it all, sharing, "the Bible never changed…and these stories never changed….And Jesus' response never changed."
The 18th podcast to join Downs' That Sounds Fun Podcast Network (TSFN), LET'S READ THE GOSPELS with ANNIE F. DOWNS will cover three chapters from a Gospel each day and often read from different translations, as well as in a different chronological order than they appear in the Bible. With each of these books telling the stories of Jesus' life and ministry, the podcast will give listeners a chance to get to know Him in new ways. Downs will also offer a downloadable reading plan and guidebook at AnnieFDowns.com.
"Starting this podcast was the next right thing after spending a few years in this spiritual practice of reading the Gospels each month," says Downs. "Getting to read it out loud now, for the next twelve months, will hopefully be an invitation and a bridge and an opportunity for God to move in our lives. You don't have to spend every day in the Gospels to be changed, but every day you spend in the Gospels will change you."
Get Connected with Annie F. Downs:
Annie F. Downs is a New York Times bestselling author, sought-after speaker, and successful podcast host based in Nashville, Tennessee. Engaging and honest, she makes readers and listeners alike feel as if they've been long-time friends. Founder of the That Sounds Fun Podcast Network—which includes her aptly named flagship show, "That Sounds Fun" — and author of multiple bestselling books like 100 Days to Brave, Remember God, and That Sounds Fun. Annie shoots straight and doesn't shy away from the tough topics. But she always finds her way back to the truth that God is good and that life is a gift. Annie is a huge fan of laughing with friends, confetti, soccer, and boiled peanuts (preferably from a back-roads Georgia gas station). Read more at anniefdowns.com and find her (embarrassingly easily) all over the internet at @anniefdowns.
###

About Post Author