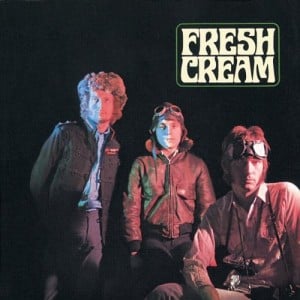 1966, Supergroup Cream released their debut studio album Fresh Cream in the UK. The power trio of Eric Clapton, Jack Bruce and Ginger Baker also released their second single "I Feel Free" on the same day.
1967, The Doors appeared at the New Haven Arena, New Haven, Connecticut. Before the show, a policeman found singer Jim Morrison making out with an 18 year-old girl in a backstage shower and after an argument the policeman sprayed mace in Morrison's face. Once on stage Morrison told the story of the backstage episode, and began taunting the police, who drag him off the stage and arrest him. The crowd riots, leaving the venue in disarray and many are arrested. Later over a hundred protesters gathered at the police station in demonstration, and more arrests were made.
1968, Free appeared at the Marquee Club in London England. Other acts appearing at the club that month included Joe Cocker, The Who, and Led Zeppelin.
1969, The Allman Brothers Band appears at Ungano's, New York.
1970, Yes performs at Hull University, Hull, England.

1971, Richie Havens receives a role in the orchestral stage version of the Who's rock opera Tommy.
1972,  The Moody Blues started a five-week run at number one on the US album chart with Seventh Sojourn.
1972, Tommy is presented with the London Symphony Orchestra in two live performances at the Rainbow Theatre in London. The production was originally planned for the LSO's regular venue at the Royal Albert Hall, but the Hall's management refuses because rock stars would be involved and because they consider Tommy to be "unsavory." Roger performs the title role, John is Cousin Kevin, Keith is Uncle Ernie and Pete sings the narrator. Rod Stewart, Peter Sellers, Stevie Winwood, Richie Havens, Sandy Denny and Merry Clayton round out the cast. An album of the show, recorded at London's Rainbow Theatre, is released and reaches number five in Britain the following year.
1972, Pink Floyd performs at Hallenstadion in Zurich, Switzerland.  The set list: Dark Side of the Moon // second set: One of These Days / Careful With That Axe, Eugene // encore: Echoes
1973, Yes played at City Hall, Newcastle, England.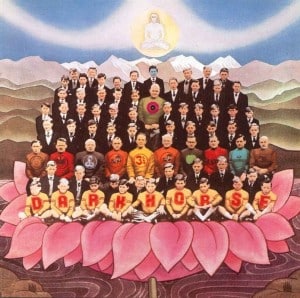 1974, George Harrison releases Dark Horse, his first album on the label of the same name. His cover of the Everly Brothers' "Bye Bye Love" is a backhanded farewell to wife Patti Boyd, who began a relationship with his friend Eric Clapton. Strangely enough, Boyd and Clapton join Harrison on the track. Rolling Stone is perplexed enough to decide, "Dark Horse is ultimately something more than an embarrassingly bad record."
1974, On ABC's Monday Night Football, John Lennon stops by booth during a game between Los Angeles Rams and Washington Redskins. Guest Ronald Reagan explains the rules of football to him.
1975, The Sex Pistols appeared at Ravensbourne College, Chistlehurst, London.
1976, Black Sabbath performed at the Capital Centre, Landover, Maryland.
1978, Chic started a seven week run at number one on the US singles chart with "Le Freak." Nile Rodgers later stated that the song was devised during New Years Eve of 1977, as a result of him and bassist Bernard Edwards being refused entrance to Studio 54, in New York City, where they had been invited by Grace Jones. However, Jones failed to notify the nightclub's staff. He said the lyrics of the refrain were originally "Fuck off!" rather than "Freak out!"
1979, Marshall Tucker Band played at the Civic Center, Lakeland, Florida.
1979, The Grateful Dead performed at the Kiel Center in St. Louis, Missouri.
1981, King Crimson appeared at the Shibuya Kokaido, Tokyo.
1984, Blue Oyster Cult performed at The Bacchanal, San Diego, California.
1988, According to a poll, the music of Neil Diamond was chosen as the best background music for sex, Beethoven was the second choice and Luther Vandross was voted third.
1989, Billy Joel started a two week run at number one on the singles chart with "We Didn"t Start The Fire." Its lyrics are made up from rapid-fire brief allusions to over a hundred headline events between 1949 (Joel was born on May 9 of that year) and 1989, when the song was released on his album Storm Front.
1991, During their Use Your Illusion Tour, Guns N' Roses played the first of three nights at Madison Square Garden in New York City.
1997, Oasis played the first of three sold out nights at Wembley Arena, London, supported by Supergrass.
2000, U2 made their first-ever appearance on Saturday Night Live. The band played "Beautiful Day" and "Elevation."
2010, Eric Clapton announced he was to sell off part of his extensive guitar collection to raise money for his Crossroads rehab Centre in Antigua. Highlights of the sale would include a guitar Clapton played at the Cream reunion shows in 2005, estimated to sell for more than £13,000 ($20,800). The sale to be held by Bonhams in New York would also feature a vast collection of amps and speakers, including a pair of Marshall speaker cabinets.
Born on December 9: Junior Wells (1932); Dan Hicks,  singer-songwriter, guitarist, The Charlatans, The Acoustic Warriors (1941); John Traynor, Jay and the Americans (1943); Neil Innes, Bonzo Dog Doo Dah Band, The Rutles (1944); Dennis Dunaway, songwriter, bass, the Alice Cooper Band (1946); Joan Armatrading, singer, songwriter (1950); Donny Osmond (1957); Nick Seymour, bass, Crowded House (1958); Rikk Agnew, guitarist, Adolescents, Social Distortion, Christian Death (1958); Paul Landers, guitarist, Rammstein (1964); Brian Bell, Weezer (1968); and Jakob Dylan (1969); Geoff Barrow, drummer, DJ, composer, producer Portishead (1971); Frank Wright III, aka Tre Cool, drums, Green Day (1972);  Chris Wolstenholme, bass, Muse (1978)
Link to Today in Rock Music archive.
About Post Author