"CMT CROSSROADS CHRISTMAS: FOR KING + COUNTRY & FRIENDS" TO PREMIERE ON MONDAY, DECEMBER 12TH AT 10p/9c ON CMT

FOR KING + COUNTRY welcome BRELAND, Chrissy Metz, Natalie Grant and Rebecca St. James to the "CMT Crossroads" stage for a special Christmas celebration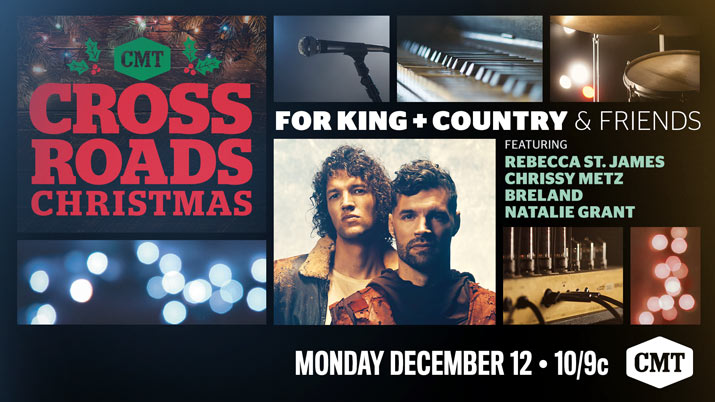 NEWS SOURCE: Rogers & Cowan PR
November 22, 2022
NASHVILLE, TENN. – (Nov. 22, 2022) – CMT today announced a very special holiday episode of its iconic series "CMT Crossroads" starring Multi-Grammy® Award winning duo FOR KING + COUNTRY. "CMT Crossroads Christmas: FOR KING + COUNTRY & Friends" features fellow starsBRELAND, Chrissy Metz, Natalie Grant andRebecca St. James giving captivating performances of time-honored Christmas classics. The one-hour episode is set to premiere on Monday, December 12th at10p/9c, exclusively on CMT. Encores are scheduled for Monday, Dec. 12th at 11p/10c; Sunday, Dec. 18th at 11a/10c; and a special Christmas Eve airing Saturday, Dec. 24th, at 7a/6c. 
Tune in for an evening of exciting holiday magic as FOR KING + COUNTRY add their signature pop/rock flair to Christmas hymns including "Joy To The World," "O Come, O Come Emmanuel," "Angels We Have Heard On High," "Go Tell It On The Mountain," "Silent Night" and more. Known for their electric onstage drumming, the duo also turns in a showstopping performance of "Little Drummer Boy." 
In addition, FOR KING + COUNTRY (brothers Luke and Joel Smallbone) and their guests share intimate Christmas memories, family traditions and what the holiday means to them, as well as heartwarming messages of peace and hope.
FOR KING + COUNTRY reflects: "What does Christmas mean to you? For us, it sounds like the most meaningful songs ever written. It looks like different genres, family members and cultures coming together – reunited under love, joy, and the redemption of a baby boy. We linked arms with our Country Comrades at CMT to put together a special night that does just that… grateful." 
Multi-Grammy® Award winning duo and Curb | Word Entertainment recording artist FOR KING + COUNTRY received a 2023 nomination for the upcoming 65th Grammy® with Hillary Scott of Lady A for their recently released song, "For God Is With Us". The single is up for "Best Contemporary Christian Music Performance/Song" for the award show that will take place on February 5 and marks the seventh Grammy® nomination of their career (with four wins).
FOR KING + COUNTRY garnered the 2022American Music Award for "Favorite Inspirational Artist;" received a Billboard Award nomination for "Top Christian Artist," and three Dove Awards wins this year for their latest album, "WHAT ARE WE WAITING FOR?" The album debuted earlier this year in the Top 10 (#7) on the Billboard 200.
"CMT Crossroads Christmas: FOR KING + COUNTRY & Friends" is executive produced by CMT's Margaret Comeaux and John Hamlin of Switched On Entertainment. The Executives in Charge of Production are Jackie Barba and Heather D. Graffagnino. Leslie Fram is Executive in Charge of Talent; Shanna Strassberg is Talent Producer.
Celebrating its 20th anniversary this year, "CMT Crossroads" will mark the occasion later this month with the landmark return of Robert Plant and Alison Krauss in "CMT Crossroads: Robert Plant & Alison Krauss" premiering Tuesday, Nov. 29th. 
For more information, visit CMT.com, check out CMT Crossroads on Facebook & YouTube and use the hashtag #CMTcrossroads.
About CMT Crossroads
"CMT Crossroads" illustrates the far-reaching roots of country music by pairing country artists with musicians from other genres. Each episode features a different set of stars playing together, swapping stories and sharing their common love of music. The series debuted January 13, 2002 with Elvis Costello and Lucinda Williams and since has showcased dream musical partnerships including Ray Charles and Travis Tritt; Bon Jovi and Sugarland; Kelly Clarkson and Reba McEntire; Def Leppard and Taylor Swift; Sting and Vince Gill; John Mayer and Keith Urban; Mumford & Sons and Emmylou Harris; Steven Tyler and Carrie Underwood; Stevie Nicks and Lady Antebellum; Katy Perry and Kacey Musgraves; Alicia Keys and Maren Morris; Halsey and Kelsea Ballerini; LeAnn Rimes & Friends featuring Ashley McBryde, Brandy Clark, Carly Pearce & Mickey Guyton; and most recently "CMT Crossroads: Robert Plant & Alison Krauss."
About FOR KING + COUNTRY
FOR KING + COUNTRY is one of the music industry's most respected and decorated duos. Brothers Joel and Luke Smallbone have been awarded four Grammy® Awards, an American Music Award, 10 GMA Dove Awards, a Billboard Music Award, and 16 K-LOVE Fan Awards. Their 11 No. 1 songs have produced an astonishing 1.8 billion career streams. The RIAA Platinum-selling act's live show has been hailed as a must-see concert event that continues to wow sold-out crowds whether in the U.S., Australia, Germany, Netherlands, or New Zealand. FOR KING + COUNTRY's WHAT ARE WE WAITING FOR?, released this year, became the duo's second Top 10 album on the Billboard 200; following their RIAA Gold certified album, BURN THE SHIPS, which also debuted in the Top 10 of the Billboard Top 200 Album Chart. The duo has had seven consecutive No. 1 songs including "For God Is With Us," "joy.," "TOGETHER" (feat. Kirk Franklin & Tori Kelly)," and the 11-week Platinum smash, "God Only Knows." The global hitmakers have collaborated with a diverse list of artists including Jordin Sparks, Hillary Scott, Dolly Parton, NEEDTOBREATHE and Timbaland, amongst others. Joel and Luke Smallbone are committed to numerous philanthropic efforts focused on human trafficking, children in need, as well as numerous programs in support of the arts. For more information about FOR KING + COUNTRY visit: www.forkingandcountry.com
ABOUT CURB | WORD ENTERTAINMENT
In 2016, Curb Records acquired Word Entertainment, combining two of the music industry's most respected brands, and more than a century of collective experience. Today, Curb and Word are two of the world's leading independent music companies. Owned and operated by Mike Curb, the Curb | Word family includes the labels: Curb, Word, Squint, Fervent, Sidewalk, MCC and IVAV, as well as Curb Publishing, Word Publishing, 25 Live, Curb Films, Word Films, Word Entertainment, and Curb Sports, representing top artists and entertainers in Country, Christian, Pop, Rock and Hip-Hop. For more information visit www.curb.com.
###

For more info on for KING and COUNTRY, visit the JFH Artists Database.


About Post Author