SINGER/SONGWRITER/INNOVATOR JOHN CHISUM TO HOST "AN EVENING WITH JOHN CHISUM & FRIENDS" AT THE FRANKLIN THEATRE ON OCTOBER 16, 2022

Christian Music Veteran Presents An Evening of Music for a Lifetime of Learning at Middle Tennessee's Historic Franklin Theatre to Benefit Children's Literacy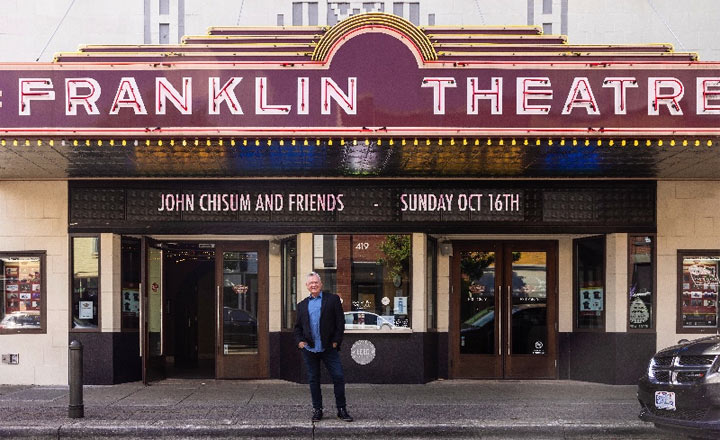 Join John Chisum and Friends this October at the Franklin Theatre for an elegant evening of music and entertainment to benefit Hands Across the Sea, a children's literacy organization serving over 850 schools in the Eastern Caribbean since 2007. Pictured: Acclaimed worship leader, music publisher, and Contemporary Christian music industry innovator John Chisum in front of the historic Franklin Theatre in Franklin, Tennessee. (David Bradley photo)

NEWS SOURCE: McCain & Co. PR
September 8, 2022
NASHVILLE, Tenn. (September 8, 2022) – Acclaimed worship leader, music publisher, and Contemporary Christian music industry innovator John Chisum is set to host "An Evening with John Chisum & Friends" on October 16, 2022, at the historic Franklin Theatre in downtown Franklin, Tennessee. The event will benefit Hands Across the Sea, a children's literacy organization serving over 850 schools in the Eastern Caribbean.
The audience can expect to enjoy an unforgettable evening of music and entertainment that is truly "an evening of music for a lifetime of learning," with Chisum and a fantastic array of his friends. Designed as an elegant evening at the historic downtown Franklin Theatre, Chisum will be performing many of his classic hits and a few new songs backed by a top-shelf rhythm section and singers. Performers will also include Contemporary Christian Music legend Don Moen; chart-topping newcomer, Centricity Records recording artist Coby James; and even a surprise guest or two.
The evening will be upbeat, fun, entertaining, and worshipful, reflective of Chisum himself, who is known for his humor and easy-going nature, as well as for decades of writing and recording his unique brand of praise and worship music. The writer of numerous Top Ten and No. 1 songs, with more than 400 of his own songs appearing on records and in print, Chisum is widely known for his songs recorded by many well-known Christian artists such as Don Moen, Steve Green, Ron Kenoly, The Gaither Vocal Band, and many others popular the world over.
Chisum's two Integrity Hosanna! Music recordings, Firm Foundation, and Come Expecting Jesus, established him as a popular worship leader worldwide. Songs from these recordings have been woven into the fabric of worship globally, appearing in hymnals and sung in thousands of churches by innumerable worshipers.
A long-time music industry professional in music publishing and artist development, Chisum has served as Director of Song Development and Copyright for Integrity Music, and Vice President of Publishing at Star Song Media, helping to oversee over 200 recording projects. He continues to empower aspiring songwriters through his company, Nashville Christian Songwriters (nashvillechristiansongwriters.com). Through the popular podcast, Song Revolution with John Chisum, he has established himself as an engaging show host in 150 episodes and counting, featuring well-known artists such as NEEDTOBREATHE, Kari Jobe, Matt Maher, Matthew West, Kim Walker-Smith, Jason Gray, and dozens more.
Chisum, who lives in the Nashville, Tennessee, area with Donna, his wife of 40+ years, has also recently launched johnchisum.com with a new podcast, All the Best with John Chisum. The show is designed to help listeners live a more creative and fulfilling life by exploring faith, spirituality, self-help, motivation, and wellness. You can listen on all streaming outlets, such as Apple Podcasts, Spotify, Youtube and more.
All proceeds from "An Evening with John Chisum & Friends" after expenses will go to support children's literacy organization Hands Across the Sea (handsacrossthesea.org), which provides new books and other resources to over 850 schools and communities in the Eastern Caribbean. Chisum and his wife, Donna, have supported Hands Across the Sea for over a decade. In 2018 they witnessed the effectiveness of this organization firsthand as they traveled to St. Lucia to lead a service project, which included painting a kindergarten classroom in the rainforest. Hands Across the Sea's Executive Director, Amanda Sherlip, will be in attendance at the October 16 event to represent the organization.
Hands Across the Sea is focused on six English-speaking island nations of the Eastern Caribbean: Antigua, St. Kitts and Nevis, Dominica, St. Lucia, St. Vincent and the Grenadines, and Grenada. The enthusiasm for reading in the region is very high, but the budget for literacy-building resources is very low. Many children are growing up without access to new, relevant books and a lending library.
"John Chisum and I have had the privilege of working together on numerous musical projects over the years, not only as music executives, but also as worship leaders and songwriters," says Don Moen, a Dove Award-winning worship leader, industry executive, songwriter, and producer. "I'm looking forward to joining John once again for a great evening of music and worship in support of Hands Across The Sea!"
For those out of the area who would like to watch the event, tickets for live streaming or replay will also be made available to purchase.
Tickets for the both the live event and online streaming of "An Evening with John Chisum & Friends" are available now at nashvillechristiansongwriters.com/jc-event. To learn more about John Chisum, visit johnchisum.com.
About Don Moen:
Dove Award-winning Christian artist Don Moen has led worship on every continent except Antarctica. A prolific songwriter, Don has recorded dozens of top-selling worship albums with Integrity's Hosanna! Music and has directed hundreds more. He has appeared with popular artists such as Chris Tomlin, Darlene Zschech, Twila Paris, Paul Baloche, and many others. He has been inducted into the Gospel Music Association Hall of Fame and has received the Ray DeVries Church Ministry Award. 
Don is as popular overseas as he is at home in the U.S. His travels for concerts and seminars have taken him to Ghana, South Africa, Singapore, the Philippines, South Korea, Brazil, Canada, Australia, Great Britain, Hong Kong, Malaysia, Indonesia, Japan, Guatemala, Honduras, and elsewhere.
Today, Don is President of Don Moen Productions in Nashville, Tennessee, where he resides with his wife Laura and five children.To learn more about Don Moen, visit donmoen.com.
About Coby James:
20-year old Coby James is a Centricity Music artist and labelmate of Lauren Daigle, Andrew Peterson, Katy Nichole, and Jason Gray.
His mad guitar skills and skillful vocals have prompted comparisons to artists such as John Mayer and Ed Sheeran.
Joined by Motown/Capitol Christian Music artist Evvie McKinney on his latest single, Shackles, a remake of the classic Mary Mary hit, Coby shows why he's an artistic force in the making for years to come. 
To learn more about Coby James, visit cobyjames.com.
About Hands Across the Sea:
The leading non-governmental literacy organization in the Islands, Hands Across the Sea is recognized as a member of the Organization of Eastern Caribbean States (OECS) Regional Education Group and a Development Partnership to the OECS Education Management Unit (EDMU).
These partnerships give Hands Across the Sea a voice in advocating for reading advancement and supporting the implementation of grassroots initiatives in schools.
To learn more, visit handsacrossthesea.org.
###

For more info on Coby James, visit the JFH Artists Database.


About Post Author