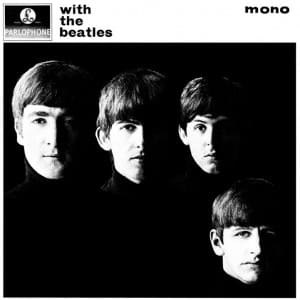 1963, The Beatles released their second album With The Beatles, which spent 51 weeks on the UK charts.
1963, President John F. Kennedy is shot in Dallas, Texas as his motorcade passes through downtown. He is pronounced dead at Parkland Medical Center.
1964, The Who appeared at the Goldhawk Social Club in London.
1965, Bob Dylan married Sara Lowndes in New York. Sara filed for divorce on March 1, 1977.
1965, Wilson Pickett appeared at The Flamingo Club, London, England.
1965, The Who tape their Saturday Club appearance at Aeolian Hall, Studio One of the BBC. Songs recorded live in studio, and released 35 years later on BBC Sessions, are "My Generation," "The Good's Gone," and "La La La Lies."
1967, Pink Floyd performed shows at 6:30 and 8:50 pm at the Guildhall in Portsmouth, England.
1968, The Beatles double White Album was released in the UK. Featuring "Ob-La-Di, Ob-La-Da," "Dear Prudence," "Helter Skelter," "Blackbird," "Back In The USSR," and George Harrison's "While My Guitar Gently Weeps." Most of the songs on the album were written during March and April 1968 at a Transcendental Meditation course in Rishikesh, India. The group returned to EMI Studios in May with recording lasting until October. During these sessions, arguments broke out among the Beatles, and witnesses in the studio saw band members quarrel over creative differences.
1968, Iron Butterfly, Canned Heat and The Youngbloods played the first of two nights at New York's Fillmore East, tickets cost $3 – $5 (£1.79 – £3.13.)
1968, Pink Floyd appeared at Crawdaddy, held at The Club House, Richmond Athletic Club, Richmond, England, supported by Arcadium.
1968, The Jimi Hendrix Experience, along with Cat Mother and the All Night Newsboys, played at Memorial Coliseum in Jacksonville, Florida.
1969, Iron Butterfly supported by Steel Mill, featuring Bruce Springsteen, appeared at Randolph-Macon College in Ashland, Virginia. The gig was held in the school's 3,500- seat Crenshaw Gymnasium
1970, Black Sabbath performed at the Fillmore West, San Francisco.
1970, Deep Purple appeared at Fairfield Hall, Croydon, England.
1971, Yes appeared at Municipal Auditorium, Atlanta, Georgia.
1972, Roxy Music played at University of York, Hesslington, York, England.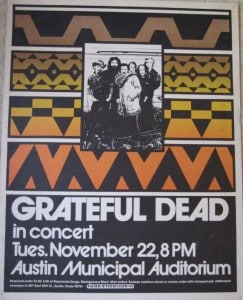 1972, The Grateful Dead performed at Municipal Auditorium in Austin, Texas. The set list: Promised Land, Sugaree, Mexicali Blues, Loser, Black Throated Wind, China Cat Sunflower-> I Know You Rider, Beat It On Down The Line, Candyman, El Paso, Bird Song, Playin' In The Band, Casey Jones Greatest Story Ever Told, He's Gone-> Truckin'-> Drums-> The Other One-> Stella Blue, Big River, Ramble On Rose, Sugar Magnolia, Brokedown Palace, Around & Around, One More Saturday Night, Encore: Uncle John's Band
1973, Genesis played at the Felt Forum in New York.
1974, Elton John appeared at the Capital Centre, Landover, Maryland.
1975, KC and the Sunshine Band started a two week run at number one on the singles chart with "That's The Way (I Like It,)" the group's second US chart topper of the year.
1975, A single from The Who By Numbers, "Squeeze Box" backed with "Success Story" is released in the US. It reaches number ten in the Billboard charts and number eleven in Cash Box. It also spends sixteen weeks in the Billboard Top One Hundred, the longest charting of any Who single in America.
1976, Neil Young and Crazy Horse performed at the Music Hall, Boston.
1976, Tangerine Dream played at Palais du Sport Paris, Paris.
1977, Rush appeared at the Stanley Theater, Pittsburgh, Pennsylvania.
1978, Hawkwind performed at Civic Hall, Wolverhampton, England.
1979, Stevie Ray Vaughn played at the Cascade Room at the Knickerbocker Cafe, Westerly, Rhode Island.
1980, Abba scored their sixth UK number one album when Super Trouper started a nine week run at the top of the charts. The album which features the chart topping singles "The Winner Takes It All" and "Super Trouper," became the biggest-selling title of 1980 in the UK.
1981, At Chicago's Checker Board Lounge, blues giant Muddy Waters is joined by fans Mick Jagger, Keith Richards, and Ronnie Wood for a jam onstage.
1983, ZZ Top appeared at the Apollo Theatre, Manchester, England.
1986, The Human League went to number one on the US singles chart with "Human," making them the 8th UK act to score a US number one single in 1986.
1994, Pearl Jam released their third studio album Vitalogy, which was first released on vinyl, and became the first vinyl album to appear on the US chart, since the domination of the compact disc format. They followed the release in other formats two weeks later, whereupon it became the second-fastest-selling CD in history, behind only the band's previous release Vs.
1997, INXS singer Michael Hutchence was found dead in his hotel suite in Sydney. He was 37. Hutchence's body was found at 11:50 am, naked behind the door to his room. He had apparently hanged himself with his own belt and the buckle broke away and his body was found kneeling on the floor and facing the door. It had been suggested that his death resulted from an act of auto eroticism, although no forensic or other evidence to substantiate that suggestion was found.
2002, The surviving members of The Doors, Ray Manzarek and Robby Krieger, announced they would record and tour again with a new line up including ex- Cult singer Ian Astbury and former Police drummer Stewart Copeland. Original drummer John Densmore was not able to take part because he was suffering from severe tinnitus.
2005, Poems written by Bob Dylan in his college days sold for $78,000 (£45,000) at a New York City auction. The sixteen pages of poems were the first known time Robert Zimmerman used the Dylan name and came from his studies at the University of Minnesota during 1959-60.
2010, After just one week of availability on the iTunes store, The Beatles' music sold more than 450,000 albums and 2 million individual songs. The Fab Four's debut on iTunes was accompanied by an extensive world-wide marketing campaign.
Born on November 22: Jesse Colin Young, The Youngbloods (1941); Floyd Sneed, drums, Three Dog Night (1943); Steven Van Zandt, South Side Johnny, E Street Band, Little Steven and The Disciples of Soul (1949); Tina Weymouth, bass, Talking Heads (1950);  Karen O, singer, Yeah Yeah Yeahs (1978)
Link to Today in Rock History archive.