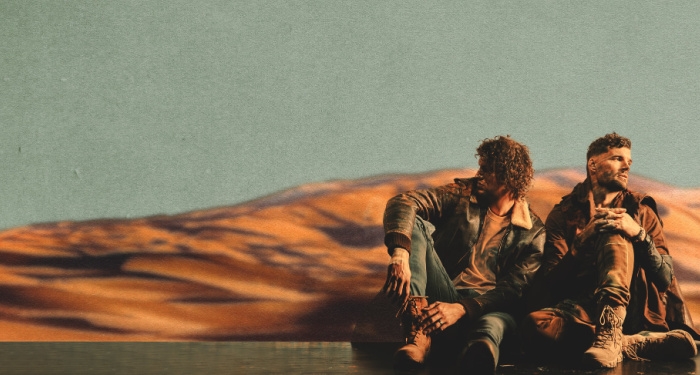 Today on social media, the GRAMMY Award-winning duo for KING & COUNTRY announced that their fourth studio album is set to release on March 11. The album is titled What Are We Waiting For? and is available now for pre-order.
"As we were finishing up one of our last drive-in shows of 2020, we had this vision-like urge that we needed to go back into the studio and work on new music," for KING & COUNTRY shared. "And so from January to this last week, we've been working on this new project. We've made records before in busses and dressing rooms and at shows, but what's been particularly beautiful about this one is that we were able to be home, taking everything we have walked through over the last year and writing it into 13 songs."
In addition to the announcement of their upcoming album, the duo also shared that they'll be hitting the road this spring for the What Are We Waiting For? tour. The 32-city tour will start on March 31 and will be featuring Dante Bowe. For more information and tickets, click here. A list of tour dates is below.
March 31 – Southaven, MS

April 1 – Hoffman Estates, IL

April 2 – Ypsilanti, MI

April 3 – Pittsburgh, PA

April 7 – Salisbury, MD

April 8 – Asheville, NC

April 9 – Charlottesville, VA

April 14 – Jackson, MS

April 15 – Knoxville, TN

April 16 – Charlotte, NC

April 21 – Champaign, IL

April 22 – Springfield, MO

April 23 – Highland Heights, KY

April 24 – Reading, PA

April 26 – Portland, ME

April 28 – Springfield, MA

April 29 – Binghamton, NY

April 30 – Fairfax, VA

May 1 – Salem, VA

May 5 – Phoenix, AZ

May 6 – Fresno, CA

May 7 – Anaheim, CA

May 8 – Sacramento, CA

May 12 – Portland, OR

May 13 – Spokane, WA

May 14 – Everett, WA

May 15 – Boise, ID

May 17 – Las Vegas, NV

May 19 – Albuquerque, NM

May 20 – Amarillo, TX

May 21 – Rogers, AR

May 22 – Franklin, TN