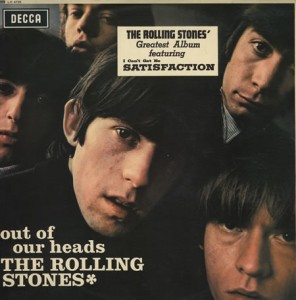 1965
, The Rolling Stones started a three week run at No.1 on the album chart with 
Out Of Our Heads
the group's first No.1 album.
1965, During a 17 date UK tour, The Who played at the Palais in Bournemouth.
1966, On their last ever US tour The Beatles performed in two cities due to a cancellation due to rain the previous day. First they performed at Crosley Field in Cincinnati, Ohio. Then they flew to St. Louis, Missouri, for a concert at Busch Stadium, where they performed under a tarpaulin due to heavy rain. It was this gig that convinced Paul McCartney that The Beatles should stop performing live.
1967, The Doors started recording their second album Strange Days at Sunset Sound Studios, Hollywood, California.
1968,Tommy James and The Shondells returned to the No.1 position for the second time with the single "Mony Mony."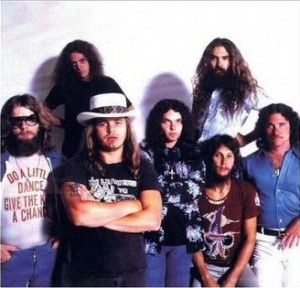 1969, During a North American tour Led Zeppelin appeared at the Carousel Theatre in Framingham, Massachusetts.
1969, Yes played at the Star Club, Hamburg, Germany.
1970, Led Zeppelin performed at Assembly Center in Tulsa, Oklahoma
1971, The Band performed at Borough of York Stadium in Toronto, Ontario.
1971, Arthur Brown's Kingdom Come, Hawkwind, Duster Bennett, Brewers Droop, Indian Summer, Graphite, Queen all appeared at the Tregye Festival Truro, Cornwall, England.
1972, Jack Casady of Jefferson Airplane was arrested after a fight broke out on stage during a concert when the police had been called "pigs." Grace Slick was maced and another group member injured at the show in Akron.
1974, Crosby, Stills, Nash, & Young appear at the Capital Centre, Landover, Maryland.
1976, The Rolling Stones, 10CC, Lynyrd Skynyrd, Todd Rundgren's Utopia and Hot Tuna all appeared at The Knebworth Festival, Hertfordshire, England.
1977, Yes appeared at War Memorial Auditorium, Rochester, New York.
1978, AC/DC  performed at the Paradise Theatre, Boston, Massachusetts.
1979, Van Halen played at the MECCA Arena, Milwaukee, Wisconsin.
1980, Blue Oyster Cult appeared at McNichols Sports Arena, Denver, Colorado.
1981, The Allman Brothers Band performed at Cape Cod Coliseum, South Yarmouth, Massachusetts.
1982, U2 singer Bono married Alison Stewart, his girlfriend from 1975 at All Saints Church, Raheny in Ireland. U2 bassist Adam Clayton acted as Bono's best man.
1983, The Grateful Dead performed at Frost Amphitheater on the campus of Stanford University, Palo Alto, California.
1983, Ramones guitarist Johnny Ramone had a four-hour brain surgery operation, after being found unconscious in a New York Street where he had been involved in a fight.
1997, Oasis' third album Be Here Now, became one of the fastest selling albums ever, shifting over 350,000 units on the first day of release. The cover image for Be Here Now was shot at Stocks House in Hertfordshire, the former home of Victor Lownes, the head of the Playboy Clubs in the UK.
2005, Robert Moog, inventor of the synthesizer died aged 71, four months after being diagnosed with brain cancer. Dr Moog built his first electronic instrument, a theremin – aged 14 and made the MiniMoog, "the first compact, easy-to-use synthesizer" in 1970. He won the Polar prize, Sweden's, music equivalent to the Nobel prize, in 2001. Wendy Carlos' 1968 Grammy award-winning album, Switched-On Bach, brought Dr Moog to prominence.
2008, Drummer Buddy Harman died of congestive heart failure at age 79. He worked with Elvis Presley ("Little Sister,") Patsy Cline ("Crazy,") Roy Orbison ("Pretty Woman,") Johnny Cash ("Ring Of Fire',")  and Tammy Wynette ("Stand By Your Man.") Harman was the first house drummer for The Grand Ole Opry and can be heard on over 18,000 recordings.
Born on August 21: Count Basie (1904); Kenny Rogers (1937); Tom Costello, Santana (1941); Jackie DeShannon singer (1944);  Joe Strummer (1952); Budgie, Siouxsie & the Banshees and Kim Sledge, Sister Sledge (1957)
Get more Today in Rock History