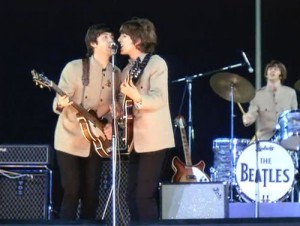 1965, The Beatles set a new world record for the largest attendance at a pop concert when they played in front of 55,600 fans at Shea Stadium in New York City. Also on the bill were Brenda Holloway, The King Curtis Band, The Young Rascals and Sounds Incorporated. The Beatles were paid $160,000 for the show. The set list: Twist and Shout, She's a Woman, I Feel Fine, Dizzy Miss Lizzie, Ticket to Ride, Everybody's Trying to Be My Baby, Can't Buy Me Love, Baby's In Black, Act Naturally, I Wanna Be Your Man, A Hard Day's Night, Help!, and I'm Down. Two members of the Rolling Stones were among the audience, Mick Jagger and Keith Richard. Later that evening, Bob Dylan visited The Beatles at their hotel.
1966, During a US tour The Beatles appeared at the D.C. Stadium in Washington DC to over 32,000 fans. Tickets cost $3. Five members of the Ku Klux Klan, led by the Imperial Wizard of Maryland, picketed the concert.
1967, Jimi Hendrix performed at Fifth Dimension in Ann Arbor, Michigan.
1967, Fleetwood Mac appeared at the Marquee Club London, England.
1968, The Who headlined at the Fillmore West in San Francisco.
1968, Herman's Hermits played at the Civic Center in Charleston, West Virginia.
1969, During a North American tour, Led Zeppelin appeared at the Hemisfair Arena in San Antonio. Jethro Tull and Sweet Smoke were also on the bill. During the show Zeppelin received abuse from locals due to the length of their hair.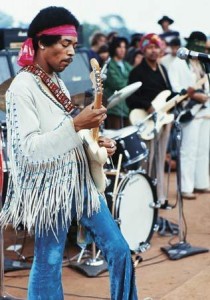 1969, Woodstock Festival was held on Max Yasgur's 600 acre farm in Bethel, New York, 109 miles north west of New York City. Attended by over 400,000 people, the event featured, Jimi Hendrix, Joe Cocker, Crosby Stills Nash & Young, Santana, The Who, Creedence Clearwater Revival, Grateful Dead, Janis Joplin, The Band, Canned Heat, Joan Baez, Melanie, Ten Years After, Sly and the Family Stone, Johnny Winter, Jefferson Airplane, Ravi Shanker, Country Joe and the Fish, Blood Sweat and Tears, Arlo Guthrie, and Joe Cocker. During the three days there were three deaths, two births and four miscarriages. Joni Mitchell was booked to appear but had to pull out due to being booked for a TV show, and wrote the song "Woodstock."
1970, Derek and the Dominoes appeared at Tofts Club, Folkestone, England.
1970, Melody Maker says "Make way for the Townshend brothers!" in an article about Pete Townshend recording his brothers Simon and Paul. Around this time, Pete buys a large American van he dubs "Maxine" which he drives everywhere. The van's size, comfort and air-conditioning inspire Pete to imagine a heavily-polluted world where people travel and live in sealed vans. The idea sparks the song "Going Mobile" and becomes one of the ideas behind the Lifehouse project
1970, The New Haven Jaycees produced four summer "pop" concerts at the Yale Bowl in New Haven Connecticut. Led Zeppelin performs one of those shows on this date. Tickets were $5 and $6.50.
1971, The Who US tour stops at the Metropolitan Sports Center in Minneapolis, Minnesota.
1971, Pink Floyd played at the Randwick Racecourse, Sydney, Australia.
1971, The Allman Brothers Band appeared at the Academy of Music, New York.
1971, The Grateful Dead played at the Community Theatre in Berkeley, California.
1972, Deep Purple appeared at the Kōsei Nenkin Kaikan, Osaka, Japan.
1974, Crosby, Stills, Nash & Young performed at the Nassau Coliseum in Uniondale, New York.
1975, David Bowie's  single "Fame" is released and becomes his first US number one.
1975, Eric Clapton appeared at Swing Auditorium, San Bernardino, California.
1976, Kansas played at Merriweather Post Pavilion, Columbia, Maryland.
1977, Yes performed at the Providence Civic Center, Providence, Rhode Island.
1979, The futuristic satire film Americathon premiered in Los Angeles featuring Meat Loaf. The soundtrack included songs by The Beach Boys, Nick Lowe and Elvis Costello.
1980, Van Halen played at the Roberto Clemente Coliseum, San Juan, Puerto Rico.
1981, Diana Ross and Lionel Richie started a nine week run at number one on the US singles chart with "Endless Love," a number seven in the UK. The song was the title from a film starring Brooke Shields.
1981, Billy Ryan, Jimmy Hall, Leon Russell, the Allman Brothers Band, Charlie Daniels Band, and Cheap Trick performed at Alabama Jam 2, held at Ladd Memorial Stadium in Mobile, Alabama.
1982, Roxy Music played at the Royal Dublin Society, Dublin, Ireland.
1984, Simple Minds appeared at the Pine Knob Music Theatre, Clarkston, Michigan.
1986, ZZ Top performed at The Forum, Inglewood, California.
1987, Michael Jackson had his third UK No.1 with the single 'I Just Can't Stop Loving You', a duet with Siedah Garrett. It was originally intended to be a duet between Jackson and either Barbra Streisand or Whitney Houston. Session singer Siedah Garrett also worked with Madonna.
1991, Paul Simon played a free concert in New York's Central Park before an audience of 750,000.
1992, Jamaican singer-song writer Jackie Edwards died. Edwards worked as a singer, songwriter for Island Records. He wrote both "Keep On Running"and "Somebody Help Me," that became chart topping singles for The Spencer Davis Group as well as releasing his own albums.
1992, INXS went to number one on the UK album chart with Welcome To Whoever You Are, their first British chart topping album.
2002, A memorial to John Lennon was unveiled in the remote Scottish village of Durness, where Lennon had spent his holidays from age seven to fifteen. The lyrics from "In My Life" had been inscribed on three stones.
2007, Sixteen solo John Lennon albums were made available to download on iTunes for the first time. A deal was approved by the Yoko Ono following a lengthy legal battle between the band's label Apple Corps and Apple.
2008, US record producer Jerry Wexler, who influenced the careers of singers including Aretha Franklin, Ray Charles and Bob Dylan, died at his home in Sarasota, Florida aged 91. Wexler produced the Aretha Franklin hit "Respect," the Wilson Pickett song, "In the Midnight Hour," and helped Bob Dylan win his first Grammy award by producing the 1979 album, Slow Train Coming. He also coined the term "rhythm and blues" while writing for Billboard magazine in the late 1940s.
Born on August 15: Bill Pinkney, The Drifters (1933);  Bobby Helms, singer, guitar (1933); Pete York, Spencer David Group (1942); Tommy Aldridge, drums, Whitesnake (1950); Matt Johnson, singer, songwriter, The The (1961); David Welsh, guitarist, The Fray (1984); Ted Dwane, bass, Mumford & Sons (1984)
Get more Today in Rock History