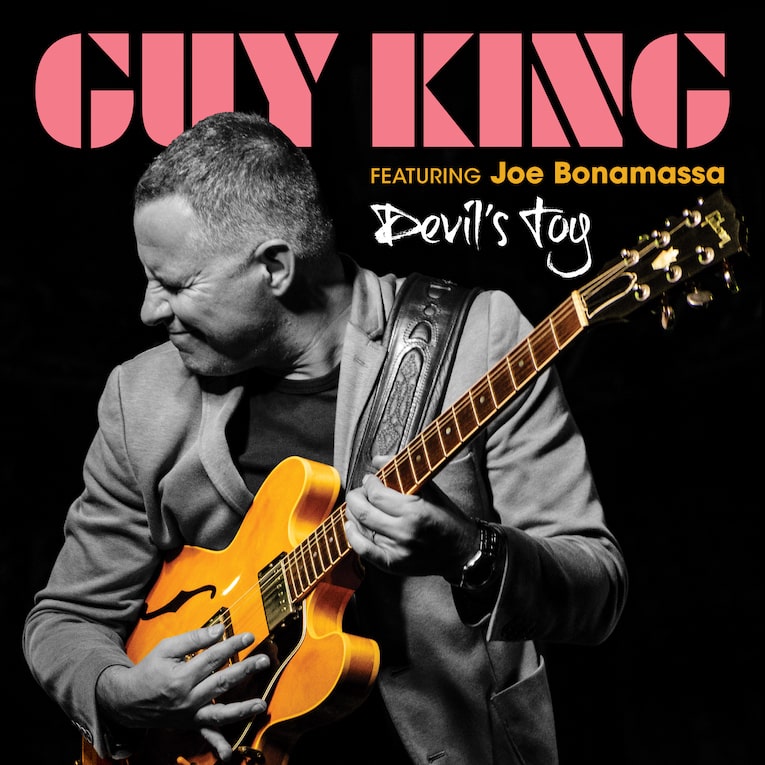 Blues Jazz guitarist, singer, songwriter, Guy King releases the first single and video "Devil's Toy" featuring Joe Bonamassa from his upcoming album, Joy Is Coming, set to release May 28, 2021, produced by King and co-produced by Tom Vaitsas and guitar great Josh Smith.
Guy King has built a reputation as one of the greatest blues and jazz artists to come out of Chicago in recent history, but his newest and soon to release album Joy Is Coming establishes him as much more than that. The autobiographical Joy Is Coming sees King showcase his songwriting chops, bringing to mind Bill Withers, Eric Clapton and Steely Dan while presenting King's true artistic voice.
Guy King's unique approach to the guitar has been compared to jazz legend Wes Montgomery and blues legend Albert King. As he has graced stages around the world, he has captured the attention of fans and noted guitarists everywhere. Joy Is Coming is a soulful and inspiring compilation of songs, straight from the heart.
Co-written by Guy King and David Ritz ("Sexual Healing, Marvin Gaye) "Devil's Toy" features some of the sweetest, virtuosic guitar playing you'll hear all year. Blending R&B funky grooves with melodic guitar riffs, King's voice is soulful, expressive, his best vocal yet. Musically, the song is so catchy, upbeat, I had to zero in on the lyrics to realize that this is a tune about vulnerability, risk and fear in the big city. As the video builds with Guy agonizing over not knowing where to turn, Joe Bonamassa joins the guitar conversation with equally breathtaking riffs with his own unique style. A standout song.
Watch "Devil's Toy"
 
Seven of the tracks on Joy Is Coming are co-written with legendary author/songwriter David Ritz. He and King collaborate to tell a story of rebirth and regeneration. Joy is Coming infuses blues, jazz and funk to create a unique energy in a collection of songs celebrating life.
Against the backdrop of immaculate production and arrangements, King's story is front and center with room for his undeniable guitar and vocal prowess to shine – this is his true voice and a breakthrough artistically.
King attracts the best musicians. His band includes Tom Vaitsas (piano, organ, keyboards), Joshua Ramos (bass), Samuel Jewell (drums, percussion), Marques Carroll (trumpet, flugelhorn), Anthony Bruno (tenor sax, baritone sax), Sarah Marie Young, Tina Jenkins, Devin Velez (background vocals.)
Guy King's first solo album Livin' It was released in 2009, followed by two more solo releases I Am Who I Am And It Is What It Is and By Myself. In 2015, King signed with Delmark Records and released his 2016 album, Truth. King has toured internationally including Europe and Brazil, and has performed at the Montreal Jazz Festival, among many others.
The intertwining of Guy's masterful guitar, breathtaking vocals, creative string arrangements and heartfelt songs make Joy Is Coming an album you don't want to miss. Available on vinyl, CD, and Digital Download.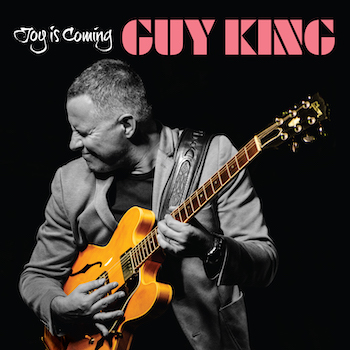 Pre-order link for Joy Is Coming 
Guy King Online
Website 
Facebook 
Instagram