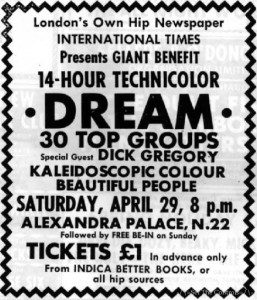 April 29
1967, The 14-hour Technicolour Dream benefit party for The International Times was held at Alexandra Palace, Muswell Hill in London. Seeing the event mentioned on TV, John Lennon called his driver and went to the show. Coincidentally, Yoko Ono was one of the performers. More than thirty acts appeared included The Move, The Pretty Things, Soft Machine, Tomorrow, The Flies, The Creation Arthur Brown, and The Graham Bond Organisation. All the bands played for free. Members of Pink Floyd drove all night from an gig in The Netherlands arriving at 3 AM, and taking the stage at dawn.  The entire event was documented by BBC Television.
1967, Aretha Franklin releases her interpretation of the Otis Redding song "Respect."
1967, Jimi Hendrix, The Walker Brothers, Engelbert Humperdink and Cat Stevens played two shows at Bournemouth Winter Gardens, England.
1969, While working on tracks for the forthcoming Beatles Abbey Road album, Ringo Starr added his vocal to "Octopus's Garden."
1970, The Allman Brothers Band played at Aliotta's Lounge in Buffalo, New York.
1971, Promoter Bill Graham announces he's closing the Fillmore Auditoriums in San Francisco and New York.
1972, David Bowie performed at Town Hall, High Wycombe, England.
1973, John Denver began a weekly live UK BBC 2 TV special, The John Denver Show.
1973, The Bay City Rollers appeared at The Odeon Theatre, Edinburgh in Scotland.
1974, King Crimson performed at the Stanley Theater, Pittsburgh, Pennsylvania.
1975, Yes played at the Palace Theatre, Manchester, England.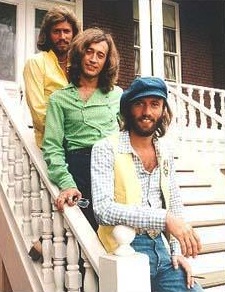 1975, After suffering the indignity of having an album rejected by their label, the Bee Gees release their career renaissance Main Course, featuring the disco hits "Jive Talkin'" and "Nights on Broadway."
1976, Genesis performed  Community Theater, Berkeley, California.
1976, After a gig in Memphis, Bruce Springsteen took a cab to Elvis Presley's Graceland home and proceeded to climb over the wall. A guard took him to be another crank fan and apprehended him.
1976, Bob Dylan appeared at Expo Hall, Municipal Auditorium, Mobile, Alabama.
1977, The Grateful Dead played the first of five nights at the New York Palladium, New York.
1977, The Kinks appeared at the Maple Leaf Gardens in Toronto, Ontario.
1979, Van Halen played at Market Square Arena, Indianapolis, Indiana.
1980, Black Sabbath began their first tour with vocalist Ronnie James Dio, who had replaced Ozzy Osbourne.
1983, Roxy Music performed at the California State University, Fresnom, California.
1984, Yes appeared at the Civic Center in Erie, Pennsylvania.
1993, Guitarist, producer, Mick Ronson died of liver cancer aged 46. Ronson recorded and toured with David Bowie from 1970 to 1973. He released the 1974 solo album Slaughter On Tenth Avenue. Ronson co-produced Lou Reed's album Transformer. He was also part of the Hunter Ronson Band with Ian Hunter. Among the talent Ronson worked with were Morrissey, Slaughter & The Dogs, The Wildhearts, The Rich Kids, Elton John, Johnny Cougar, T-Bone Burnett.
1995, Rapper Tupac Shakur married Keisha Morris inside the Clinton Correctional Facility, where he was serving a four-year jail term for sex abuse.
2001, A blue plaque was unveiled at 38 Aubrey Walk, Kensington, London to honor the musical heritage of the address where British singer Dusty Springfield lived between 1968 and 1972.
2007, Arctic Monkeys started a three week run at number one on the UK album chart with their second album Favourite Worst Nightmare.
Born on April 29: Duke Ellington (1899); Carl Gardner, American singer, The Coasters (1928); Willie Nelson (1933); Klaus Voorman,  Manfred Mann, Plastic Ono Band (1942);  Tammi Terrell, singer (1945); Tommy James (1947); Michael Karoli, German guitarist, songwriter, Can (1948); Francis Rossi, Status Quo (1949); Mark Kendall, American guitarist,  songwriter, Great White (1957); Carnie Wilson, American singer-songwriter, actress Wilson Phillips (1968); China Forbes, American singer-songwriter, Pink Martini (1970); Mike Hogan, bass, The Cranberries (1973)
Link to Today in Rock History archive.