By Martine Ehrenclou
Every now and then a vocalist comes along that makes you sit up and listen. When she also happens to be an outstanding songwriter, you take notice and want to spread the word. The award-winning Grace Pettis from Austin, TX by way of Alabama, is about to release her album, Working Woman, on May 7, 2021 via MPress Records, that features not only insightful, moving songs but extraordinary and soulful vocals. Grace Pettis is going places.
A blend of rocking roots, Americana and Country/rock, produced by singer/songwriter Mary Bragg, Working Woman is a collection of 10 original songs and features guests Indigo Girls, Ruthie Foster, Dar Williams, The Watson Twins, Gina Chavez and Mary Bragg. The record features an all-female/non-binary band and showcases Pettis from confident to her most vulnerable through well-crafted storytelling. Pettis is the winner of many songwriting contests, including NPR's Mountain Stage New Song Contest, and has received grants from the Buddy Holly Foundation. Pettis has three previous independent releases, Grace Pettis (2009,) Two Birds (2012,) and EP Blue Star in a Red Sky (2018.)
The mark of a great singer, songwriter is the ability to make people feel something. Grace Pettis seems to accomplish this effortlessly. She is authentic, the real deal. Raised by parents who strongly valued writing, that ability to write was seeded early on. Her father is acclaimed songwriter Pierce Pettis and her mother, Dr. Margaret Mills Harper is a poetry scholar.
Title track, "Working Woman" kicks off the album, a roots rocker that kicks a**. An anthem for every woman, whether working in the home raising kids or in the workplace, the track celebrates women and nails the details about being under-recognized for all kinds of work they do. Pettis is a strong and powerful vocalist who sings it like she means it and calls out truths like I haven't heard before. The heavy, soaring electric guitar (Ellen Angelico) in combination with organ (Kira Small), Ryan Madora (bass) and drums (Megan Coleman (drums) gives this track an edgy, hard-hitting feel.
Pettis is a singer/songwriter well beyond her years and her songs reflect a certain maturity, an emotionally evolved person. Take the rock and roll number "Landon" featuring Indigo Girls, a remarkable and moving story about her gay best friend. Previously blinded by her conservative, Southern upbringing, the track is an apology for shunning him for his sexual orientation. Pettis' voice, along with the lush harmonies, is emotional, honest, vulnerable. With Country flavors in a way that Bonnie Raitt leans into Country, this is the first song on Working Woman that digs deeper.
Opening with acoustic guitar played by Pettis, "Any Kind of Girl" pulls back the curtain on the reality of every woman's struggle to overcome a sense of vulnerability in the world where age, size, regional location, socioeconomic status and race all play a part. A moving and meaningful ballad, featuring Dar Williams, Pettis' delivery is wistful, ushering each word with soul and feeling. Enough to bring you to tears, Pettis shines a light on truths not often talked about, even among women. "And we've all got mothers, and we'll all have daughters, and I don't want to have to look her in the face and tell her." The song is arranged with haunting guitar, soft drums and bass, allowing the lyrics to be heard. Striking insight from a perceptive songwriter.
Watch "Working Woman" 
 
Grace Pettis has a simply beautiful voice, at times bold and powerful with incredible vocal range, tender and vulnerable at others.
Adding some humor to the mix is "I Ain't Your Mama," a Country song that will make just about anyone laugh, complete with pedal steel and some fine guitar picking. Pettis sings with a lighthearted but gutsy touch, "You got your boots and the bottles and the rest of that clutter all over my living room…Between the stack in the sink and the pee on the seat I'm about to lose my mind."
Working Woman by Grace Pettis is a triumph. The album features metaphor, exquisite storytelling, and melodic, catchy songs sung by a courageous vocalist/songwriter who has chops to burn. A bright future is ahead.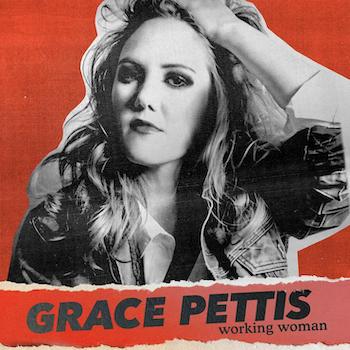 Pre-order link for Working Woman
Grace Pettis Online
Website
Facebook