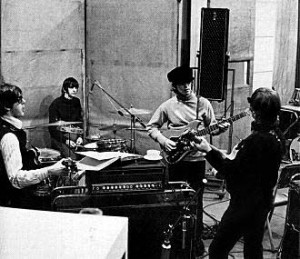 1966, The Beatles began recording the new John Lennon song "I'm Only Sleeping" at Abbey Road studios London, England. Recording began at 11:30 PM. The band recorded 13 takes, concluding on May 6th. The song features the then-unique sound of a reversed guitar duet played by George Harrison, partly because the tape was played backwards accidentally.  Paul McCartney wanted to see if the band could recreate the sound. George recorded two guitar parts specifically for that purpose. It was released on the album Yesterday And Today.
1968, Simon & Garfunkel release "Mrs. Robinson" from The Graduate soundtrack.
1969, Joe Cocker makes his debut appearance on The Ed Sullivan Show.
1969, The Who performed at the Kinema Ballroom, Dunfermline, England.
1969, Pink Floyd appeared at Mothers Club in Erdington, Birmingham, England. Radio 1 DJ John Peel served as the emcee,  He wrote in his weekly column for Disc & Music Echo, "At one moment they are laying surfaces of sound one upon another in symphonic thunder; at another isolated, incredibly melancholy sounds which cross another sounding like dying galaxies lost in sheer corridors of time and space."
1970, David Bowie and The Hype, Barclay James Harvest, High Tide and The Purple Gang all appeared at Stockport Grammar School, England.
1971, The Grateful Dead performed at the Fillmore East in New York City. The Beach Boys also appeared on stage with the Dead, who together performed a short set of Beach Boys songs.
1972, Pink Floyd appeared at Ford Auditorium, Detroit, Michigan.
1973, King Crimson played at Irvine Auditorium, Philadelphia.
1974, A free afternoon event was held in the parking lot of the University of Connecticut, Ice Hockey Arena in Storrs. The four acts that appeared, Aerosmith, Bruce Springsteen, Fairport Convention, and Fat Back. Springsteen then went on to play another gig that evening at the University of Hartford in Connecticut.
1974, Genesis appeared at the Century Theatre, Buffalo, New York.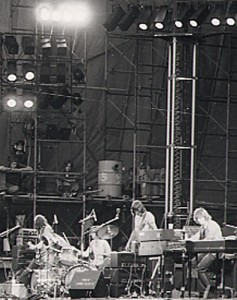 1975, Pink Floyd played the last of a four night run at Los Angeles' Sports Arena. A total of 511 fans were arrested over the four nights for possession of marijuana.
1976, Customs officers on a train at the Russian/Polish Border detained David Bowie, after Nazi books and mementos were found in his luggage. Bowie claimed that the material was being used for research on a movie project about Nazi propaganda leader Joseph Paul Goebbels.
1977, Eric Clapton performed at the Hammersmith Odeon, London.
1978, David Bowie appeared at the Capital Centre, Landover, Maryland.
1979, Roxy Music played at the Festival Hall, Osaka, Japan.
1980, Rush performed at Market Square Arena, Indianapolis, Indiana.
1981, Ringo Starr married actress and one time "Bond Girl" Barbara Bach. The pair met while filming the movie, Caveman, with Dennis Quaid and Shelley Long. In attendance at the wedding were George Harrison and Paul McCartney.
1985, USA For Africa started a three-week run at number one on the US chart with "We Are The World." The US artists' answer to Band Aid had an all-star cast including Stevie Wonder, Tina Turner, Bruce Springsteen, Diana Ross, Bob Dylan, Daryl Hall, Huey Lewis, Cyndi Lauper, Kim Carnes, Ray Charles, Billy Joel and Paul Simon plus the composer's of the track, Michael Jackson and Lionel Richie.
1996, Oasis played the first of two nights at Manchester's Maine Road football ground as a 'thank you' to their fans, the 80,000 tickets sold out in hours.
2003, Madonna went to number one on the UK album chart with American Life, the Material Girl's eighth chart topping album. It also reached the top spot on the US album charts.
2009, Aerosmith were to hold a free concert in Hawaii to placate angry fans who brought a legal case against them. Fans filed a class action case, which claimed the band had cancelled a sold-out show in Maui two years ago, leaving hundreds of fans out of pocket in favor of a bigger gig in Chicago. Lawyers for the would-be concert-goers said Aerosmith had now agreed to put on a new show, and would pay all expenses. Everyone who bought a ticket to the original concert would receive a free ticket.
Born on April 27: Casey Kasem (1932) Jerry Mercer, drummer, Mashmakhan, April Wine (1939); Jim Keltner, drummer, Traveling Wilburys, Plastic Ono Band, and Delaney & Bonnie and Friends (1939); Gordon Haskell, King Crimson (1947); Pete Ham, Badfinger (1947); Kate Pierson, The B-52's (1948); Ace Frehley, Kiss (1951); Sheena Easton (1959); Will Boyd, bass, Evanescence, American Princes, and The Visitors (1979)
Link to Today in Rock History main page