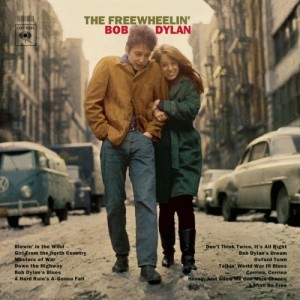 1965,
Bob Dylan"s debut album 
The Freewheelin" Bob Dylan
was at No.1 on the album chart.
1965, Paul McCartney spent the day shopping for furniture in Portobello Road, London disguised in a cloth cap, moustache, glasses and overcoat.
1966, The Who performed at the Regal Cinema in London.
1967, Jimi Hendrix played in Luton, Bedfordshire, England.
1969, The Band step out from behind Bob Dylan for the first time to perform solo at San Francisco's Winterland auditorium
1970, While performing at the White House at the invitation of President Richard Nixon, Johnny Cash was asked to perform "Okie From Muskogee." Cash declined because it was not his song, but had been a hit for Merle Haggard. Instead, Cash sang his number one hit, "A Boy Named Sue".
1970, Country Joe & the Fish along with the Hampton Grease Band played at The Warehouse in New Orleans, Louisiana.
1970, Paul McCartney releases his first post-Beatles solo album, McCartney. The the versatile musician played every instrument on the record.
1970, Santana began sessions for what would be their breakthrough album Abraxas at Wally Heider Recording Studio, San Francisco, California. When released in September of this year, Abraxas peaked at number one on the US chart.
1971, All four Beatles had solo singles on the charts, Paul McCartney with "Another Day," John Lennon, "Power To The People," George Harrison, "My Sweet Lord," and Ringo Starr with "It Don"t Come Easy."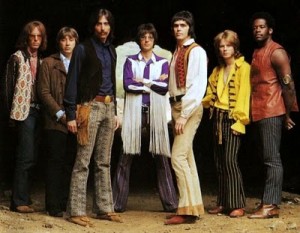 1971, Three Dog Night started a six week run at number one on the singles chart with "Joy To The World." It was the group's second chart topper.
1972, The Grateful Dead perform at Tivoli Gardens in Copenhagen, Denmark during their legendary Europe '72 tour.
1972, Keith Richards girlfriend Anita Pallenberg gave birth to their second child, daughter Dandelion.

1973, Pink Floyd's album Dark Side of the Moon went gold in the US. The LP went on to stay in the US chart for more than ten years and become the longest charting rock record of all time.
1973, Yes appeared at Kiel Auditorium in St. Louis, Missouri.

1973, Tito and John Jackson from The Jackson Five were arrested for buying stolen TV and stereo equipment.
1974, Vinnie Taylor, guitarist with US rock and roll revival band Sha Na Na, was found dead in a Holiday Inn hotel room in Charlottesville, Virginia from a drug overdose. Sha Na Na played at the Woodstock Festival, their 90-second appearance in the Woodstock film brought the group national attention. The group appeared in the movie Grease as Johnny Casino & The Gamblers.
1975, Pink Floyd performed at the Coliseum in Denver, Colorado.
1975, Elvis Presley bought a Convair 880 Jet formally owned by Delta Airlines for $250,000, which he re-christened Lisa Marie. Presley spent a further $600,000 refurbishing the Jet to include personal quarters, a meeting area and a dance floor.
1976, David Bowie performed at Hallenstadion, Zürich, Switzerland.
1977, The Stranglers, Cherry Vanilla, The Police, and The Jam all appeared at The Roundhouse, London, England.
1978, Genesis played at The Forum, Inglewood, California.
1979, The Allman Brothers Band performed at Cameron Indoor Stadium, on the campus of Duke University, Durham, North Carolina.
1983, Felix Pappalardi, producer and bass player with American rock band Mountain was shot dead by his wife Gail Collins during a jealous rage. Collins was convicted of criminally negligent homicide and sentenced to four years in prison. Pappalardi who was 43, had produced the  albums Disraeli Gears and Wheels of Fire by Cream
1987, Reggae drummer and percussion player Carlton Barrett of The Wailers was shot dead outside his house in Kingston, Jamaica. He joined Bob Marley and The Wailers in 1970, wrote the Marley song "War." Barrett was the originator of the one-drop rhythm, a percussive drumming style.
1991, Nirvana appeared at the OK Hotel in Seattle, Washington, where they played a new song, "Smells Like Teen Spirit" live for the first time.
1994, Pink Floyd started a four-week run at number one on the UK album chart with The Division Bell, their fourth chart topping album.
1998, Linda McCartney died after a long battle against cancer. She married Paul McCartney in 1969 when she was working as a photographer. As well as a being a member of Wings, she became an animal rights campaigner and launched her own brand of vegetarian food.
2004, Kurt Cobain's Mark IV-style Mosrite Gospel guitar sold for $100,000 (£66,667) at the Icons of 20th Century Music auction held in Dallas, Texas. Other items sold included Elton John and Bernie Taupin's song writing piano which sold for $140,000 (£93,333) and a 1966 Rickenbacker guitar owned by The Byrds Roger McGuinn's sold for $99,000 (£66,000.)
2008, Danny Federici, the longtime keyboard player for Bruce Springsteen and a member of The E Street Band, died of cancer at the age of 58. Federici had worked with Springsteen for over 40 years, starting with his early bands Steel Mill, and Child.
Born on April 17: Don Kirshner (1934); Roy Estrada, Frank Zappa Band (1943);  Jan Hammer, Mahavishnu Orchestra (1948); Pete Shelley, English drummer, The Buzzcocks (1955); Maynard James Keenan, American singer-songwriter, producer, Tool, A Perfect Circle, Puscifer,  Green Jellÿ (1964); LizPhair (1967); Matt Chamberlain, session drummer, Edie Brickell, Pearl Jam, Tori Amos, Morrissey, David Bowie, Elton John, Peter Gabriel, The Wallflowers, Kanye West, Garbage, John Mayer (1967)
Get more Today in Rock History