(New York, NY – March 15, 2021) – Gov't Mule has announced their return to the stage with two shows this spring on Friday, April 30th and Saturday, May 1st at Westville Music Bowl in New Haven, CT. The concerts will mark the first-ever events at Westville Music Bowl, which recently was converted from the Connecticut Tennis Center to an outdoor music and comedy venue, and the start of their socially distanced Twilight Concerts Under the Stars series. The pair of shows will mark Gov't Mule's first performances since the band's annual Island Exodus event in January 2020 in Jamaica and their first in the United States since the acclaimed quartet's annual New Year's run at the end of 2019 with two back-to-back nights at The Beacon Theatre in New York City. Pre-sale will start Wednesday, March 17th at 10am ET and general on-sale starts Friday. March 19th at 10am ET. PRESS HERE to purchase tickets.
 This past fall, GRAMMY Award-winning vocalist, songwriter, producer, revered guitarist, and Gov't Mule front man Warren Haynes along with bandmate Danny Louis performed seven sold out shows in Morris, CT at South Farms, including the 2020 Twilight Concerts on the Farm season closing finale. It is only fitting that Gov't Mule would kick off the new Twilight Concerts Under the Stars series at Westville Music Bowl as the venue brings the safety-first music event to new levels by transforming the former tennis venue into a true concert experience with stadium quality sound, lights and video.
"It's really hard to describe how excited we all are to get back together for the first time in 15 months and rehearse, record and ultimately get back on stage," shares Haynes. "It's been a crazy year and throughout it all, the one thing I kept thinking about was walking on stage with Matt, Danny and Jorgen again in front of our amazing audience. The Mule is ready to leave the stall, that's for sure."
Located on the grounds of the Yale Athletic Complex in the Westville neighborhood of New Haven, Westville Music Bowl becomes a prime New England destination for national touring artists. Seating will be sold in sets of 2 and 4, with a minimum of 6 feet social distance from other seats. Floor seats will be sold exclusively in sets of 4. Westville Music Bowl will have a large variety of local food including offerings for vegans and those with dietary restrictions, as well as a full bar with beer (local/craft, domestic and import), wine, cocktails and soft drinks available.
Safety is the top priority, and both shows will comply with the most current health and safety standards per state regulations and local jurisdictions in order to protect guests, artists, crew and staff. Staff are required to wear masks at all times, while security will be on site to enforce social distancing etiquette. Masks are not required while in Guest Seating, however in accordance with Executive Order No. 7NNN: "Effective immediately, any person in a public place in Connecticut, whether indoors or outdoors, who does not maintain a safe social distance of approximately six feet from every other person shall cover their mouth and nose with a mask or cloth face-covering." Everyone entering the venue, including guests, artists, crew and staff will be health checked including a temperature check and short questionnaire. For more information, please visit www.westvillemusicbowl.com.
ABOUT GOV'T MULE & WARREN HAYNES
Gov't Mule –Warren Haynes [vocals, guitar], Matt Abts [drums], Danny Louis [keyboards, guitar, and backing vocals], and Jorgen Carlsson [bass] – has galvanized a global fan base with their honest, organic and daring music and improvisational virtuosity, leading them to be recognized as one of the most timeless, revered and active bands in the world whose spot amongst rock titans remains unshakable. Led by visionary GRAMMY Award-winning artist and guitar legend Warren Haynes – a cornerstone of the American music landscape – the enduring, globally revered group has showcased its intelligence and breadth over the course of 20+ studio and live albums, thousands of memorable performances and millions of album and track sales.
Gov't Mule has become a human encyclopedia of great American music while adding to that canon with their signature sound. Their live album and full concert-length film, Bring On The Music – Live at The Capitol Theatre, is out now. The band's flexible interplay in the studio and on stage makes them a true living, breathing ensemble and Haynes is lauded as one of the most formidable guitarists and vocalists of the modern era and a prolific songwriter and producer. Throughout his prolific career as part of three of the greatest live groups in rock history – Allman Brothers Band, Gov't Mule and the Dead – and an acclaimed solo artist, he has become one of music's most treasured storytellers.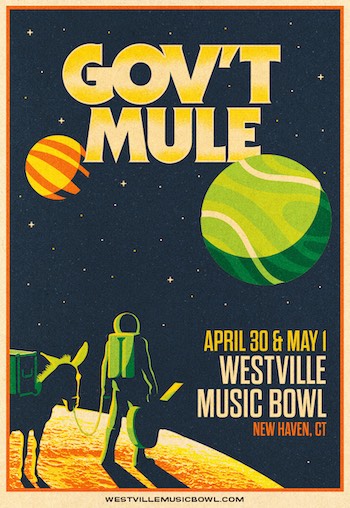 Gov't Mule Online
Website 
Facebook | Twitter | Instagram