British husband and wife blues rock duo When Rivers Meet are pleased to announce they will be special guests on King King's October 2021 UK Tour.
Tickets are available from www.thegigcartel.com. The seven-date tour starts at Leeds University Union (October 15) and ends at Edinburgh Queen's Hall (October 24).
When Rivers Meet are excited to be performing all shows as a duo. The news follows the release of their current single "Walking On The Wire" that was released on February 26th.
"Due to the pandemic, this will be the first time in over a year that we will be touring," says When Rivers Meet's guitarist, Aaron Bond. We can't wait to play for our fans. It's going to be a great experience to tour with King King and play in front of their fans as well."
Check out the music video for "Walking On The Wire" on YouTube.
"We love 'Walking On The Wire', and we know people will be joining us on the chorus and singing it loud," says Grace. "Blending and interweaving our vocals around different harmonies is something we love to do. We get to rock out at the same time. What could be more fun?"
In November 2020, When Rivers Meet released their debut album "We Fly Free" which attracted strong media support and popular demand from their growing fanbase. The album received rave reviews from Classic Rock, Blues Matters, Guitarist, Maverick, Blues in Britain, Fireworks, Vive Le Rock, Powerplay, RNR and many more publications.
Classic Rock Magazine said this about the debut album, "When Rivers Meet are heavy enough to get your attention and quirky enough to hold it, with songs that kick at you, but leave a boot-print on your heart."
Prior to the debut album, the duo released two EPs "The Uprising" and "Innocence of Youth" which served as an effective precursor for the fans before the highly anticipated arrival of the debut album.
Over the past twelve months, When Rivers Meet has built up loyal fan engagement on their socials due to their weekly "Rockin' The Lockdown" live stream concerts performed from their home. Airing Saturdays at 8pm, the live streams proved so popular, the duo are now performing twice weekly by adding an acoustic Wednesday morning show at 10am.
The band's previous two singles "Battleground" and "Did I Break The Law" were played on Planet Rock for sixteen weeks. When Rivers Meet were nominated in four categories at the UK Blues Awards including "Emerging Blues Artist of the Year", "Blues Band of the Year", "Blues Album of the Year", and "Most Inspirational Online Performance of the Year".
"Battleground" was voted "Track of the Week" on Classic Rock Magazine's Louder Sound website. The album was also voted Blues Rock Reviews' Top 20 Albums of 2020.
When Rivers Meet's passion for blues rock shows through with an underpinning of traditional blues and classic rock. On their debut album, Grace and Aaron made a concerted effort to keep to a genuine, gritty sound using authentic techniques, including tube tape echo and reverb chambers, which have created a live sound that keeps a truly vintage vibe that not only has energy, but is also a true representation of the ever-evolving sound this duo produces.
KING KING – OCTOBER 2021 UK TOUR
With Very Special Guests
WHEN RIVERS MEET
TICKETS HERE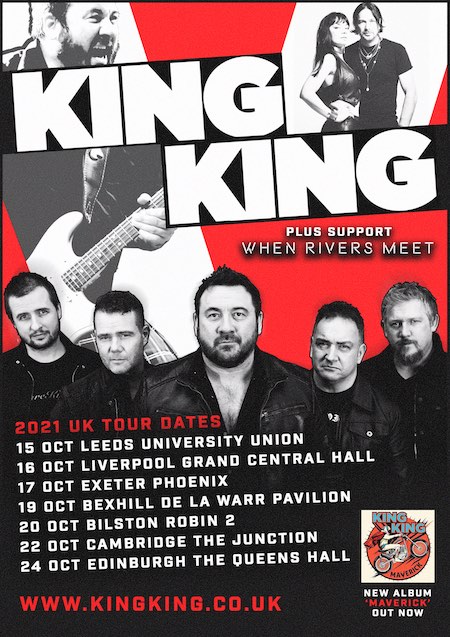 King King Tour with When Rivers Meet Tour Schedule Here.