Shaw Davis & The Black Ties blast off with another dose of the group's stratospheric blend of hard rock with psychedelic tendencies on their new single "Higher." The track dropped March 12th, 2021 on Chin Music Records and shows the Florida-based power trio at the peak of its powers. "Higher" is from their upcoming album, Red Sun Rebellion, set to release in 2021 and produced by Grammy-winning producer Paul Nelson (Johnny Winter), available from Sony Orchard.
Group members Shaw Davis (guitar, vocals), Patrick Stevenson (bass, vocals), and Bobby Van Stone (drums) make up a next-level outfit that's redefining the sound of rock music for a new generation and is one of the most vital and creative bands working today. One spin of "Higher" is all the proof needed that rock music is very much alive and in the best of hands. Find it, get it, and play it loud. You'll be glad you did.
Listen to "Higher"
 
Formed in 2017 and hailing from Pompano Beach, FL, the powerhouse rock trio Shaw Davis & The Black Ties  brought some serious bluster to their last album, Tales From The West, released in 2018. This trio veers hard to the rock side of the blues/rock scale with energy to spare and ripping guitar riffs from Davis. They've logged more than 300 recent live shows, playing to sold out venues along the east coast, FL and across the U.S. Tales From The West was nominated for three Independent Blues Music Awards.
The trio has become a mainstay on the national club circuit and have performed alongside Foghat, The Guess Who, Blackberry Smoke, The Georgia Satellites, Bishop Gunn, Walter Trout, Eric Tessmer, Samantha Fish and Blue Oyster Cult.
With Paul Nelson producing their third studio album, Red Sun Rebellion, Shaw Davis & The Black Ties are fast becoming the badass trio to watch. Scorching tunes written with maturity and some bad boy wisdom, Davis' expressive vocals pair nicely with monstrous guitar chops, tight bass and drums.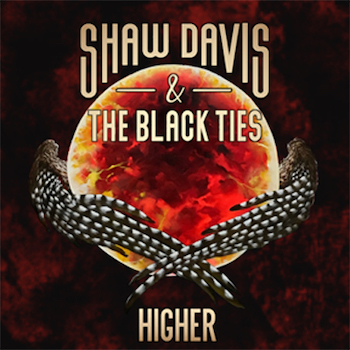 Stream/download 'Higher" on Spotify and Apple Music 
Purchase link for "Higher"
Shaw Davis & The Black Ties Online
Website 
Facebook 
Instagram