By Tom Scarborough
One of the things I love most about rock and roll is that it's essentially a spectator sport. Loving a band is a lot like following your favorite team. You know the position players intimately—their strengths and weaknesses—you know when they are playing shitty ball, and you know when the team is on fire. And sometimes alchemy happens—a seemingly impossible chemistry suddenly emerges in which disparate elements operating against natural laws combine in a quicksilver instant of brilliance—and a transcendent moment, or season, is the result. Southern rock band, Magnolia Bayou is now on the threshold of its breakout season. Good is on the verge of becoming great.
Despite the COVID minefield that bands have had to pick their way through in the past year, Magnolia Bayou is well-positioned to shoot to the front of the pack when the pandemic recedes, and it becomes possible to again make a living on the road. Hailing from Gulfport, Mississippi—not known as a wellspring for bands playing original, deep cut rock and roll—Andrew Fulton (guitar, lead vocals), Josh Estes (bass), Cedric Feazell (drums), and Dylan Palmiero (lead guitar), are riding the crest after last summer's release of their second album, Strange Place. The strength of the sophomore album has attracted a torrent of attention within the industry, and there are murmurings that the band is on the cusp of landing a major label deal.
Though a January co-bill with Joyous Wolf was cancelled, earlier this month Magnolia Bayou concluded a triumphant four-night run in Florida opening for Buckcherry. The band is also looking ahead to a busy festival season, pandemic permitting. They will perform for the third consecutive year at the Highway 30 Music Fest in Idaho, with Ray Wylie Hubbard and Night Ranger on June 24. The Festival on the Lake in Alexandria Kentucky on August 7th is also on the books. The band's agency is also putting the final details in place for a number of other festivals and short runs opening for name bands.  In April, Fulton will also find time to wed his high school sweetheart.
Along with fellow Southern rockers, the Allman Betts Band, the Georgia Thunderbolts, Them Dirty Roses, Jive Mother Mary, The Josephines, and other rising bands, Magnolia Bayou is in the vanguard of a Second Great Awakening of Southern Rock. Not since the Capricorn days of the 1970s has there been such an upwelling of talented bands bubbling up out of the fecund Southern soil.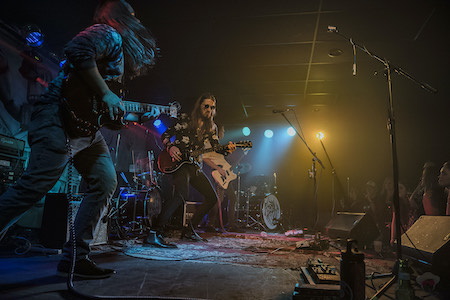 When I asked lead singer Andrew Fulton what might explain these musical spasms during which Southern rock re-emerges, as if from some generational chrysalis, he said, "I think it's in the soil. I think it's in the water we drink. We grew up listening to BB King, Lynyrd Skynyrd and the Allman brothers. Even if you stray away from that, it's kind of in your subconscious. You sit down with pen and paper and the influence is there because you've been steeped in it for so long. I think there's a working spirit in the South, and that's where this quintessentially American music comes from."
Magnolia Bayou's songcraft mines a deep, rich vein of influences. "We all just listen to so much music," riffs Fulton. "Each of us will listen to ten different artists in the same day, ranging from Frank Sinatra to Rage Against the Machine. And I think that's why our music is this big melting pot of everything. But at the same time, it's very definable and very much our own." Fulton and Palmiero draw their inspiration from such diverse artists as Son House, Black Sabbath, Soundgarden, and The Black Crowes, and it's apparent that the Bayou Boys are drawing from a deep and eclectic musical swamp.
The song, "Tupelo" from the band's latest album is a case in point. In it one can hear the influence of both Delta and Hill Country blues. Fulton chuckles when asked for the back story. "The story quite literally started right outside Tupelo—in Pontotoc, actually—where we were playing at the time. The only footwear I wear on stage is boots—we got to the next town and I didn't have my stage boots, and I was pissed about it. So, I wrote that line, "Left my boots in Tupelo" on my phone and just let it sit there to marinate. I started thinking about how many times the four of us have left stuff everywhere we've gone—we've left guitars, we've left amplifiers, boots, toothbrushes, clothes—everywhere we've been. So, it's just one of those rambling tunes you write in the back of a van about traveling across the country…how you leave a part of yourself wherever you go."
Listening to Magnolia Bayou, one is immediately blindsided by the band's high level of musical polish. The sound is as tight and seamless as a Philippe Patek Swiss watch. It's the kind of musical synchronicity that one expects from a band that has played together for at least a decade or more. When one meets Magnolia Bayou, it is a bit of a shock to realize that the members are in their early to mid-twenties (drummer Feazell being the exception–he is an antediluvian thirty-two). Though young, the Bayou boys have now been together for five years, enough time for the band to become tightly knit, musically and interpersonally. Bands only become this musically integrated by playing and spending a lot of time together. The simple fact is, these guys actually like each other.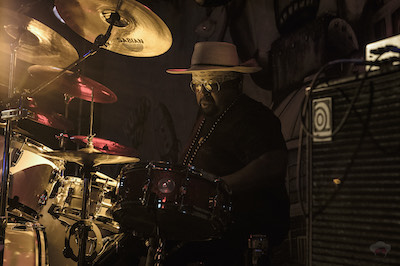 Said Fulton, "The four of us can feel it. Regardless of what's actually going on, the four of us know we're truly in synch with each other. We are always pushing ourselves, and each other. 'The last show was great—let's keep it going—let's step it up again.' We always talk about that stuff when we rehearse. We are always trying to one up ourselves and challenge each other individually, and as a unit. Plus, we hang out together—we're a pack and we like to do stuff together."
 
If Magnolia Bayou were a stock, it would be a buy and hold. This is a band with a solid upward growth trajectory that might potentially soar for years. According to Fulton, the band has already written enough material for several more albums. "Right now, everything we've done to this point is blues and hard rock based. But we're transitioning into alternative rock a little more and our music is becoming an eclectic mix.  We aren't putting ourselves in a musical box at all. At this point, we can either do a real chill album, or we can do an acoustic album, or we can do a country album. Of course, we can always do a hard rock or blues rock album. We are all just really anxious to get back in and start demoing some stuff and recording as soon as possible.  We love writing and recording but playing live is what we live for."