We are pleased to premiere the video "Rude Awakenings (Acoustic Version)" by rock and roll band, Sons of Silver from their EP Doomsday Noises, out now.
Los Angeles-based Sons of Silver delivers a blast of tight, disaffected, and socially-critical rock music on this live acoustic studio performance of the track "Rude Awakenings." Powder keg guitars and pressure cooker vocals combine to give the song the kind of relevant impact that creates timeless music. It's a bold song captured while happening and the band has never played it better. The rock and bluesy "Rude Awakenings" highlights lead singer Peter Argyropoulos' soulful vocals with a backdrop of provocative lyrics. The rhythm section reflects rockabilly rhythm and punk-blues guitars. Take the clip for a spin and see for yourself!.
As Sons of Silver continues to hone their combustible musical chemistry, their collective years of experience makes them a force to be reckoned with. Sons of Silver is frontman Peter Argyropoulos of Pete RG, original Pearl Jam drummer and recent Rock N' Roll Hall of Fame inductee, Dave Krusen, Candlebox bassist Adam Kury, former Skillet guitarist Kevin Haaland, and keyboardist and engineer Brina Kabler.
Watch "Rude Awakenings"
 
"We wanted to do something special to celebrate the release of "Rude Awakenings" as a single. It's the third (and final) track from our Doomsday Noises EP to go to radio. Plus, it's probably our favorite song on the EP. It's a real banger to play. It's got a backbeat that gives a nod to Adam Ant, background vocals that give a nod to the Rolling Stones, and lyrics that give a nod to the fading art of irreverence.  All very rock n' roll.  Since we've been doing a bunch of behind-the-scenes vids for our socials, we figured, why not get a video of us doing an acoustic version?  We didn't rehearse it.  Just came in a played a couple of takes.  That's what you see and hear: a composite from two takes. Fun to do." — frontman Peter Argyropoulos
Sons of Silver takes on social issues with rock abandon, revealing where they stand on life in general and how they treat each other and others. The band carries out a rock n' roll tradition that stirs up discussion. Before the pandemic, Sons of Silver logged nearly 80 shows a year, and with their EP Doomsday Noises, their songs spun off jam sessions and the writing process emerged from musical interplay. A band with a social conscience, they hope that the song and EP encourages more participation in the world we live in.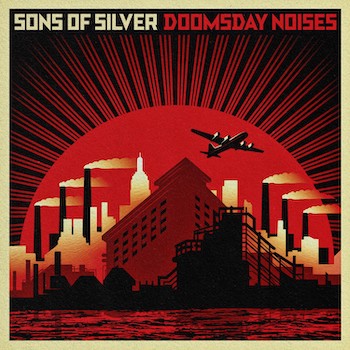 Link to Stream Doomsday Noises by Sons of Silver
Sons of Silver Online
Website
Facebook 
Instagram