Blues/rock guitar legend Popa Chubby to release new album, 'Tin Foil Hat' out March 31, 2021, written, recorded and engineered by Popa Chubby (Ted Horowitz) at Chubbyland Laboratories. Horowitz has been rocking the blues for more than 30 years  with his eclectic New York-style blues guitar, vocals and songwriting.
Born in New York City in 1960, Popa Chubby began his career playing behind local heroes like punk poet Richard Hell and Irish songwriter Pierce Turner. He wasn't content to be someone's guitarist and made his label debut on the O-Keh/Sony label in 1995. He's been a solo artist ever since and has consistently released original blues music that doesn't conform to traditions. He fearlessly blends jazz, rock, funk and soul into his blues and is considered one of the most authentic musicians today.
Poppa Chubby says, "We got off the road on March 12th, 2020 and our last show was in Key West, Fl. We barreled home in my Chevy van, no stopping. It seemed the world was on the verge of shutting down. I was home in isolation with a bunch of guitars, drums, amps, microphones, losing my mind.
"I started writing songs. I wanted to make people feel better so the first was "Can I Call You My Friends?" The answer was a resounding yes. We had 30K hits on social media overnight and the outpouring of love was both healing and mind-boggling. So I continued writing and recording."
Listen to "Too Rolling Stoned"
 
'Tin Foil Hat' follows 'It's A Mighty Hard Road' released March 2, 2020. A multi-faceted musician, Popa Chubby played all the instruments on 'Tin Foil Hat,' handled all vocals, and produced the album. He dedicates this release to all those who have passed due to coronavirus.
Chubby continues, "This record is as true as I have ever been in 60 years on the planet. It's birthed from love, desperation, fear, frustration, pain, sorrow, and resolution. Like you, I have been pushed to the limits of my humanity by the pandemic and I offer this work with humility and devotion to you all."
Popa Chubby is on tour and will be performing on Joe Bonamassa's Keeping The Blues Alive at Sea VII Cruise with George Thorogood, Charlie Musselwhite, Samantha Fish, Eric Gales, Shemekia Copeland, and more.
Tracklist for Tinfoil Hat
Tinfoil Hat
Baby Put On Your Mask
No Justice No Peace
Someday Soon (Change Is Gonna Come)
Can I Call You My Friends?
You Ain't Said Shit
Another Day In Hell
Boogie For Tony
Cognitive Dissonance
Embee's Song
1968 Again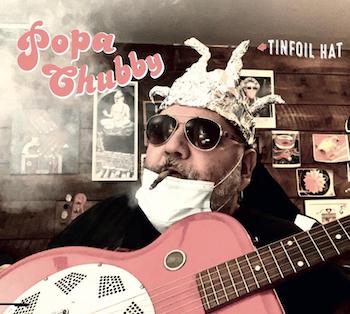 Pre-order link for 'Tinfoil Hat' by Popa Chubby 
Popa Chubby Online
Website
Facebook