Chicago-based virtuoso slide guitarist, singer, songwriter, Joanna Connor releases her new video for the single "Destination" off her new album, 4801 South Indiana Avenue, produced by Joe Bonamassa, and released February 26th on Bonamassa's record label, KTBA Records. Best known as one of the reigning Queens of blues rock guitar, Joanna Connor's "Destination" is a raw and gritty cover of the Assassins classic.
To celebrate the single Joanna Connor premiered the official music video on YouTube and features Joanna's killer slide guitar and powerful, soulful vocals. This hard-driving track showcases her aggressive guitar work and she totally rocks it.
Joanna's new "Destination" single features Joanna Connor on lead vocals and slide guitar, Joe Bonamassa on guitar and backing vocals, Josh Smith on guitar, backing vocals by Jimmy Hall, and Reese Wynans on keys (Stevie Ray Vaughan's Double Trouble.)
Says Joanna, "Destination is a real house rocking tune written by a somewhat overlooked band called The Assassins, led by Jimmy Thackeray. It was made sweeter by the soulful background vocals of Jimmy Hall. Joe and Josh joined on as well. It's a great showcase for my frantic and frenetic guitar work."
Joanna Connor is at the top of her game on "Destination" and on her entire album, 4801 South Indiana Avenue. Her guitar playing is raw, impeccable and downright fierce. There is almost a live feel on all of the tracks. The album takes it name from the street address of the legendary Chicago blues club, Theresa's Lounge.
Joe Bonamassa and Josh Smith produced the album at Ocean Way Sound in Nashville in February 2020. Joe banned guitar effects pedals from the recording of the album, and brought in vintage amps from his personal collection.  All songs were performed in one, two or three takes.  Any songs that didn't nail it in three takes were not included on the album. Bonamassa and Smith also play guitar on the album.
Joanna's album has received unanimous rave reviews and many are citing her new release as one of the blues albums of 2021. We wholeheartedly agree!
Watch "Destination"
 
Joanna has played guitar with the who's who of blues including James Cotton, Buddy Guy , Luther Allison, Jimmy Page, and Junior Wells. Debuting at Chicago's premiere blues club Kingston Mines in the 1980s, she played there three nights a week ever since, in between gigs at larger clubs and festivals, before the spread of the pandemic earlier this year.
An aggressively edgy and highly innovative blues rock guitarist with a tight groove that encompasses jazz and funk, Joanna's hailed by many as one of the most powerful and influential female guitarists in the world.
The new album reflects an entirely new experience from the way Joanna has recorded music in the past. "This album is a homage to the blues school that I attended in Chicago," says Joanna. "We attempted to capture the spirit of tradition and inject it with raw energy and passion."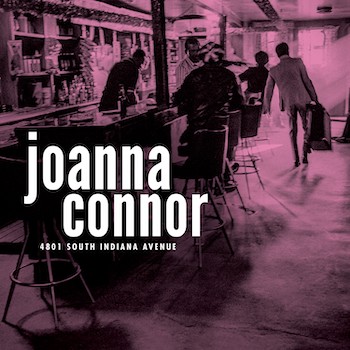 Purchase/Stream 4801 South Indiana Avenue
Joanna Connor Online
Website
Facebook
 
About Post Author