Singer Songwriter Keyboardist T Bear
To Release New Studio Album on April 16th Featuring Edgar Winter, Stephen Stills, Walter Trout,
Laurence Juber, Robby Krieger and more
February 10, 2021 — After a self-imposed hiatus that lasted nearly three decades, T Bear, aka Richard T. Bear, returns with a striking new album, Fresh Bear Tracks, on April 16th, via Quarto Valley Records. The 12 song collection offers a sturdy mix of blues, soul, and rock with a who's who of special guests including Stephen Stills, Robby Krieger, Edgar Winter, Tom Scott, Walter Trout, and Hutch Hutchinson, to former Paul McCartney & Wings members Laurence Juber, Denny Seiwell, and The Heartbreakers' Benmont Tench.
We had so much fun," T Bear says in retrospect. "It was as if the planets had all aligned. I had to rediscover my singing voice, and then it all fell into place. The musicians were so eager to help that they found a way to participate and make it all work."
Fresh Bear Tracks begins with the strikingly soulful "Bring on the Night," featuring bluesman Walter Trout's tasteful fretwork. It is a revamped version of the original tune that appears on T Bear's debut LP Red Hot & Blue. The lead single, the soulful sounding "River of Resurrection" finds Edgar Winter on saxophone and an uplifting refrain that echoes the tune's theme of healing and forgiveness. The brassy R&B-flavored "Give It Up" was resurrected from an early co-write with Stephen Stills, which the two then finished nearly three decades after its inception.
Listen to "River of Resurrection"
 
With its breezy strut and sway, "Cab Calloway" enlists the talents of famed sax man, Tom Scott and bass great Hutch Hutchinson. The melodic yet mysterious "Wonderland" features Robby Krieger on slide guitar. The song was written by T Bear and his late wife Nina, based on the poem "Malice in Wonderland." Then there's "Dear John," an homage to the late great John Prine.
"Nina's Song" stands as a musical love letter to his late wife. With T Bear on piano, the beautiful and evocative ballad brings a poignant end to an album that reflects T Bear at his best. T Bear credits Nina for encouraging his comeback. When Nina lost her brave battle with cancer in September of 2019, he vowed to complete the album and dedicate it to her memory.
Fresh Bear Tracks was recorded in Los Angeles at Krieger's Horse Latitudes studio with Grammy-winning producer Tony Braunagel at the helm.
Fresh Bear Tracks tracklisting
Bring on the Night
Cleopatra
Dear John
Cab Calloway
River of Resurrection
Love to be Lonely
I Don't Care
Woe is Me
Give it Up
Wonderland
She's Not There
Nina's Song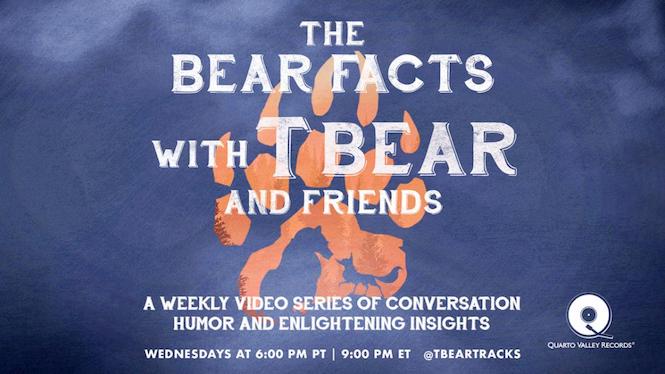 In celebration of the new album, T Bear is excited to announce The Bear Facts, a weekly video series premiering today at 6:00 pm Pacific/9:00 pm Eastern via @tbeartracks.
The one-on-one interview program finds T Bear talking with musicians he knows as friends and colleagues, many of whom appear on the new album Fresh Bear Tracks. It offers the audience an opportunity to hear little-known facts and details about the musicians' lives and careers that might not have been revealed otherwise. The connection and conversation provide a series of enlightening insights and exchanges mixed with humor, humanity, and happenstance.
Today's debut episode features noted drummer, Grammy-winning producer, and Blues Music Award winner Tony Braunagel.
THE BEAR FACTS w/ T Bear and Friends*
Every Wednesday at 6 pm Pacific/9 pm Eastern @tbeartracks
Episode 1 – Tony Braunagel – February 10th
Episode 2 – Edgar Winter – February 17th
Episode 3 – Laurence Juber – February 24th
Episode 4 – Walter Trout – March 3rd
Episode 5 – Denny Seiwell – March 10th
Episode 6 – Will Lee – March 17th
*Episodes 1 thru 6 were taped from September 2020 to January 2021, with more interviews to be scheduled.
T Bear Online
Facebook Instagram
Website
About T Bear
Richard T Bear boasts a career that spans more than 40 years, one that led to a string of noted solo albums and collaborations with a dizzying list of revered artists. In 1978, he signed with RCA Records and released his debut album, Red, Hot, and Blue, produced by Jack Richardson (Bob Seger, The Guess Who). The album featured a notable group, Les Dudek, Billy Squier, Paul Shaffer, and the Becker Brothers. The album spawned the single "Sunshine Hotel." A remix of the song climbed to number four on the world dance charts before becoming the dance staple that it remains today. A second album followed titled Bear that includes a rendition of the Rolling Stones 'classic "Ruby Tuesday" and Captured Alive, a concert recorded in Hamburg, Germany. In 1984, he moved to Teldec Records, which led to the release of The Bear Truth, and the Giorgio Moroder produced album The Runner.
He has appeared on numerous recordings including Crosby, Stills and Nash's "Southern Cross," The Blues Brothers Soundtrack, Richie Havens Mixed Bag II, Kiss members Gene Simmons and Peter Criss' solo ventures, as well as Toby Beau's hit single "My Angel Baby," Billy Squier's solo debut Tale of the Tape, and former Rascals Gene Cornish and Dino Danelli.  He would also pen the song "Love and Pain," one of the standout tracks on Cher's blockbuster album Take Me Home.  He has shared the stage with artists such as Richie Havens, Odetta, The Doobie Brothers, and Jeff Beck, to name a few.
Domestic responsibilities and a struggle to regain his sobriety forced him to put his musical career on hold. In 1983, T Bear gained his sobriety and focused on helping others with addiction, and became instrumental in developing the Musicians Picnic, serving on its board of directors. The annual event led to the creation of the Musicians Assistance Program (MAP), a non-profit organization that is now part of the Recording Academy's MusiCares Foundation.
After a lengthy hiatus, T Bear returned to the music scene in 2020 and released the single "One Day at a Time" on Quarto Valley Records.
About Post Author