Extraordinary rock guitarist, singer, songwriter Arielle announces her ninth album, 'Analog Girl In A Digital World' released May 7, 2021. The album will be distributed globally by The Orchard / Sony Music.
The album features Arielle's self-built guitar Two-Tone, and her new signature guitar The Arielle. The latter is released by Brian May Guitars in March 2021. Arielle will plant a tone-wood tree in honor of the first 24 guitars sold. Pre-order the signature guitar HERE.
"This is the very first guitar that Brian May guitars has ever offered that is not based on my original Red Special," says Brian May. "Designed by, and named after Arielle, it's a new dimension. To understand why this guitar was irresistible to me, you have to hold her in your hands. The guitar is light, smooth and agile. She sings like a bird."
Watch the trailer for "Peace of Mind"
 
Arielle is a 21st century classic rock artist who recorded half of the new album in digital, and the other half in tape, to try and capture the impact music of the 60's and 70's had on her.  As a writer, guitarist, and singer, when Arielle produced this album, she insisted on recording each song in one take. Recording the  album in studios in Nashville and Austin, Texas, Arielle set out to capture the  energy of each city and their musicians.
Continues Brian, "Arielle is an awesome musician. She is a truly phenomenal player, with an ability to produce the most beautiful tones as well technical mastery. Of course, it is in the fingers, but I was keen to discover how she had fashioned her own instrument to achieve her sound. We collaborated in making the Arielle a new mission to guitarists everywhere – to open up a new door to excellence!"  "Arielle's playing reaches places I never knew existed," says Brian. "I believe this guitar will do the same."
There is something magical that surrounds Arielle's presence as captured on the masters she's created throughout her career. Her love of the Arts was omnipresent in her life from the age of five, but the realized vision truly began to reach the ears, hearts and souls of a global audience when she began releasing repertoire independently in 2015. In some respects, she is from a past era, down to earth while connected to the discovery, exploration and dreams that were omnipresent in the lives of those from previous generations. On this new collection of songs, she has never been truer to her love of the 60's and 70's, and the inspiration that lives in her art from a connection to this wondrous time.  When asked how she hopes people perceive her and her art, she shares, "Like the little place in the forest you go when you need some time to just breathe…it reminds you of home and makes you feel safe, but brings you a bit of magic. And every time you go there, it comes back and stays with you for a while."
As usual, the songs were captured predominantly with vintage gear. Arielle surrounds herself with tools that have over time have become a vast collection of keepsakes. As she shares, "My entire recording area I am working in is covered in old gear. Physical items. Impractical, and space-takers, but also are easier to work with."
The first single "Peace Of Mind" and second single "Inside & Outside" are available to pre-save here.
Arielle is a young woman who was born in the wrong generation. At times facing depression in being a child of the new  millennium versus the boom of musically creativity that emerged in the Sixties and thrived through the Seventies. And on a broader basis, a time even earlier where things were done by hand, with a level of craft that could not be hidden behind technology.
"I take and protect those principles inside my music," says Arielle. The new  album takes you on a journey through the trials, tribulations, and confusion of  an old-school artist in a fast-paced world.
Track Listing
Dialup
Digital World
Peace Of Mind
This Is Our Intervention
Still A Man
Inside & Outside
I'd Rather Be In England
Living In A Fortress
Reimagine Redefine
Arielle's album "Analog Girl In A Digital World" is released on April 23, 2021. Pre-order the album here and here.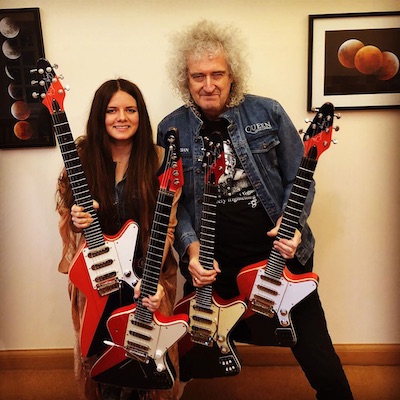 Pre-order The Arielle signature guitar from Brian May Guitars here.  
Arielle Online
Website 
Facebook
About Post Author