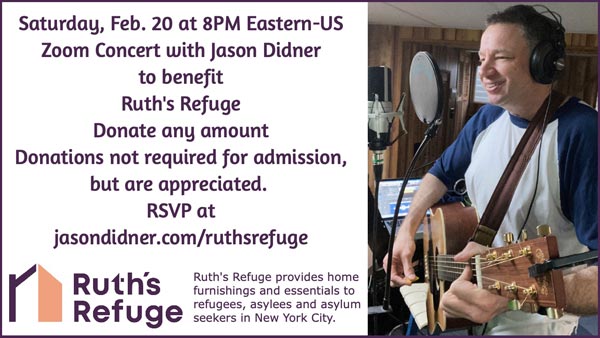 New Jersey-based singer/songwriter Jason Didner will perform in an online rock concert on Saturday, February 20 at 8:00pm to benefit Ruth's Refuge, an organization that provides refugees, asylees and asylum seekers in New York City with home furnishings and other essential supplies they need in order to settle in to their new homes after fleeing turmoil in their original homelands. 
The concert will take place on the Zoom remote communication platform; audience members  will have the option to appear on-camera during the show. Admission is free; donations of any amount are encouraged, but not required. 
People wishing to sign up for the concert can RSVP online. Those who RSVP will automatically receive an email containing the Zoom link that will get them into the concert the night of the show, which takes place Saturday, February 20 at 8:00pm Eastern time in US and Canada (UTC-5). 
"New York has a long, proud history of welcoming those who flee persecution and chaos, as it did for my own ancestors," Jason said. "Ruth's Refuge has been there to extend what's best about America to those who have been through so much already. I'm proud to support them in their efforts with this benefit concert." 
Since late fall, Jason has been giving live, online concerts weekly to help family, friends and new audiences cope with renewed and intensified COVID-19 restrictions, as colder weather further restricts options to gather outdoors. One concert attendee sent Jason a message saying "I felt like I went out" after having attended one of his online shows. Many of these performances have been benefit concerts for causes like Mental Health Association of Essex and Morris, The Codey Fund, Hackensack University Medical Center and St. Jude Children's Research Hospital. 
"Ruth's Refuge is very excited to partner with Jason," said Leah Cover, Executive Director of the nonprofit. "We hope everyone will log in and enjoy his music together in our living rooms, celebrate our wonderful refugee community and help make sure that all refugees and asylum seekers in NYC have beds to sleep in."   
Jason has recently released 3 singles and videos in the process of creating an album planned for release in the spring. In 2001, his single "You Can't Get There from Here in Jersey" was featured on the NPR radio program, "Car Talk" and included in their "Car Tunes" compilation of songs they've included in their program. He and his wife Amy also lead a rock band for kids and families called Jason Didner and the Jungle Gym Jam. 
originally published: 01/27/2021
---
---
---
---
---