When Rivers Meet is a British blues/rock duo with a fresh vintage vibe led by husband and wife, Grace and Aaron Bond. Their new album, We Fly Free boasts an authentic and gritty sound, with soaring vocals, dirty guitar, and slide mandolin. Their sound is fresh and exciting, captivating listeners the world over. With an underpinning of traditional blues and classic rock, the duo transports you back in time but hurl you back into the present with a contemporary twist.
Grace sings lead vocal on most of the tracks, showcasing her killer voice and impressive range, while adding slide resonator mandolin and violin. Aaron blends his rich vocals and ripping guitar chops into inventive, highly listenable songs with unique harmonies. Their two EPs 'The Uprising' and 'Innocence Of Youth' had them on tour in the UK in their self-converted VW camper before the lockdown. The duo does a weekly Facebook livestream with live performances and plenty of fun chats.
Rock & Blues Muse
Thank you for taking the time to talk with us today. Congratulations on your big success with your new album We Fly Free. Did you have any idea how big this album would hit?
When Rivers Meet
Thank you so much! We had absolutely no idea… We'd released our two EP's, "The Uprising" in September 2019 and "Innocence Of Youth" in May 2020 and we got a great reaction from them both, but it has been totally crazy with the album. It's the first time our music has been sent out to the industry and media, so it was scary, but the feedback has been incredible. We even made 'Rock & Blues Muse' Top 20 Blues/Rock and Roots Album of 2020!!!
Rock & Blues Muse
Yes, you did! Congratulations. Does the album title have significance for you?
When Rivers Meet
Absolutely, in 2019 we both left our day jobs to pursue music full time. We'd been playing gigs in the evening and at weekends before-hand, but we knew we couldn't give it everything unless we went all in. We are both obsessed with playing and creating music, and another huge draw was the freedom. We bought our old VW van and self-converted it into a camper so we could travel all over playing gigs. For us, that is the life we want and total freedom.
Rock & Blues Muse
Describe your influences. You have a unique and fresh sound. It's blues/rock, folk and roots with a vintage vibe. How did that blend come about? Did your sound evolve over time?
When Rivers Meet
It took time. Although this is our debut album release, we've been working on finding our sound for quite a while now. Incorporating the mandolin and fiddle into Blues/Rock is not the norm, but it helps to give us a few extra colours. When it comes to the vintage vibe, that is very conscious! It's what we both love. We don't want our music to be too perfect or over produced. We like it raw around the edges.
Rock & Blues Muse
How did you begin playing and performing music together?
When Rivers Meet
We were together for a few years as a couple before we started playing music together. We were both playing in different bands, working on different projects. It took us a while to get used to playing together but now we wouldn't consider anything else. We have never been competitive, so we've totally got each-others back, which is a great feeling.
Rock & Blues Muse
How does the songwriting process go with the two of you? Is it always working on songwriting together or does one of you bring a song or piece of one to the other? Have either of you ever vetoed a song from the other?
When Rivers Meet
Oh yes plenty of times! Although, we generally have the exact same vision for how we want a song to turn out. Our one rule is, if we don't 'love it' scrap it. Most of the time we write our own parts to a song separately. Aaron is the lyricist and Grace works on the music. A song can start with a lyric, a beat, or a riff, and once we've got strong ideas down, we come together to work on it. Aaron can reel off lyrics by the page, which is amazing, so we tend to be able to write quite quickly.
Rock & Blues Muse
Grace, your vocals are so strong, powerful, and clear. You also have quite the vocal range. How long have you been singing? Have you had voice training?
When Rivers Meet
Singing has been my lifelong obsession. There are recordings of me at about four years old just going for it singing. Right from my days at school I've been 'Grace the singer' so it's a big part of me. I've had so many singing teachers through the years, but I've pulled all the best bits from lots of different resources. As I belt it out quite a lot, I have a keep my technique-training up.
Rock & Blues Muse
Aaron, you also have a great voice and sing lead on a couple of tracks on We Fly Free. How do you both decide who sings lead on which songs?
When Rivers Meet
Thank you. It's honestly about what's best for the song. When we started writing the album, we had said it would be nice for me to take lead on a couple of songs, but we didn't set out consciously 'this song will be for me' they just felt right for my voice, which was awesome.
Rock & Blues Muse
Your harmonies are a part of your signature sound. How did that come about?
When Rivers Meet
Lots and lots of practice! Unfortunately, our voices didn't just fall together and gel. We've spent hours singing quietly into each-others ear to get the voices to meld. We don't use the traditional harmonies either, so it really helped once we found out what worked for us. Now we can pretty much click in and go for it.
Rock & Blues Muse
Grace you play violin and slide resonator mandolin. Have you always played both? How did you come to play resonator mandolin?
When Rivers Meet
Kind of by accident. I got obsessed with the Fender Mandocaster but I couldn't afford to get the one I wanted, but then I came across my resonator on eBay. I thought it looked amazing, bought it and the rest is history. The action was high when I got it, so I grabbed my slide, totally fell in love with it straight away.
Rock & Blues Muse
Aaron, has your main instrument always been guitar?  Congratulations on your new 335. It's a beauty!
When Rivers Meet
She is gorgeous isn't she! And the action is lovely as well. I've been lucky to have some beautiful guitars made for me. My main go to guitar is a Gibson Les Paul, but along with my 335 my three-string fretless cigar box guitar comes a close second. I'm not much of a techy, so all I need is a Blues Driver, Reverb pedal and a valve amp, then I'm happy.
Rock & Blues Muse
How is We Fly Free different from your last two EPs?
When Rivers Meet
We went for more of a live vibe, and as it's a full-length album, we wanted there to be light and dark shade. It would have been easy for us to rock our way through the album, so we had to calm down and make sure there was some contrast. We added Hammond onto the album as well, which we didn't have on the EP's.
 Rock & Blues Muse
Your Facebook livestreams on Saturdays are so much fun. You make them like a party you want to attend. You both seem so comfortable in front of the camera. Did you plan out your live streams before you started doing them or did they happen naturally? You both seem like you're having such a good time together.
When Rivers Meet
We do love doing them! There was never any plan to live stream. Back in March when all the gigs got cancelled and everyone jumped on and started live-streaming, we were apprehensive about it. But a couple of weeks into lockdown we took the plunge and have been live streaming every week since. Even though it's very different to playing to a live audience, we absolutely love it. It's grown our audience online like crazy, we've had over 500k views from over 100 different countries, which is pretty mind blowing.
Rock & Blues Muse
You mentioned in your January 2nd livestream that you've started writing your next album. Can you tell me a bit about it?
When Rivers Meet
Yeah, we've just started on it. We plan to write through the rest of the winter then record in the Spring. We don't tend to write tens and tens of songs then decide on what to put on the album. We'll go into the studio with an album's worth of songs ready to go. It's been exciting to get into writing again and we want to make the most of our time while we can whilst we are not on the road playing.
Rock & Blues Muse
You were taken off your tour due to the pandemic. How's the pandemic been for you? It's been rough for a lot of musicians.
When Rivers Meet
It's been so tough for everyone. We're very lucky to have such amazing supporters and being able to do the livestreams has been our saviour. A lot of bands haven't been able to get together to play which has been a real shame, but it's been easier for us because we live together as a couple.
Rock & Blues Muse
You have a UK tour planned for October of this year. Tell me about it. Any other tour plans?
When Rivers Meet
We think it's looking like early 2022 now, but OMG it's going to be amazing. We're still booking venues now, but there'll be lots of dates coming soon. Once it's safe for us all to be back out in crowds there's going to be a lot of people who desperately need a fix of live music.
Rock & Blues Muse
What's next for you?
 When Rivers Meet
We have our new single from the album coming out soon. It's called 'Walking On The Wire'!
Rock & Blues Muse
Fantastic. Can't wait to hear it. Thank you again. Congratulations on a great album.
We Fly Free
Thank you, Rock & Blues Muse
When Rivers Meets debut album "We Fly Free" is available from www.whenriversmeet.co.uk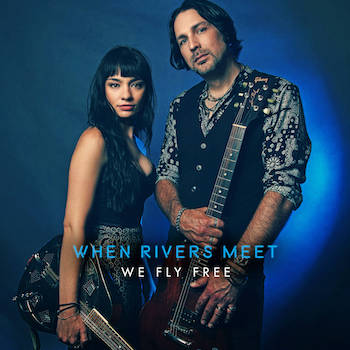 When Rivers Meet Online
Website 
Facebook
About Post Author