By Joanna Connor
I did the reverse of what most white kids did growing up in the 60s and 70s. I was raised on blues and jazz and fell into some rock n' roll a bit later. My mother was the music aficionado in our home. She baptized me in a sea of compelling music, from the virtuosic jazz heights of Ella Fitzgerald, to the garden of soulful goodness of Taj Mahal to the current Beatles album, the Beatles after the Maharishi and the LSD, that is.
Led Zeppelin was a gift to me by an older male friend named Joe. I was around 12. Led Zeppelin II literally exploded off my turntable. I had never felt such visceral power. I latched on to the blues that was an undercurrent, the root that band nourished their musical tapestry with.
At that time I was living with my father who went to work at 4am every day. Every morning my ritual was to wake up at 7am and turn on that one Led Zep album I coveted. That was my breakfast, and I can still feel my burgeoning teen hormones tingling in kinship with that guitar playing that spoke majesty, mystery, sensuality. Every riff that Jimmy Page conjured out of his guitar, electric or acoustic, carried me somewhere outside of Worcester, Massachusetts. This music felt like it belonged to me, a convergence of Celtic and Blues longing that rattled my DNA and empowered my conscious.
And looking at Jimmy Page in pictures I could find, guitar slung low, dark curls cascading, shirt open, dragons and sparkles, leather and velvet and satin, a cigarette dangling… this man was the pinnacle of rock n' roll cool royalty. At 14, I bought a book of guitar tab and learned "Stairway to Heaven" note for note. I practiced that song like a girl possessed getting ready for the 9th grade talent show. The geeky, tall, gangly, braces-wearing, tenor sax-playing, band weirdo that I was, nailed it that night at Chandler Junior High.
Throughout the years I never stopped listening to the band, uncovering more and more of their catalogue.
I moved to Chicago in 1984 and by 1985 was playing at the Kingston Mines, the infamous blues club that was a blues sanctuary, revered by musicians like the Stones and Zeppelin, and numerous other rock, soul and jazz heavyweights that would frequent the club on stops through Chicago.
I was the second guitarist for the 43rd Street Blues Band led by guitar scorcher Dion Payton. We played from 930pm-4am, and usually called up local musicians to jam for the last set at 3am every Thursday night. Dion summoned me to the dressing room right before we were to start our final set. I can still remember his words, "Joanna go play the last set. Some English guy is gonna use my guitar, so back him up." I was just as tired as Dion, but I would never argue with him. Back then he looked like Snoop Dog with a cowboy hat and a Les Paul. (This is long before any of us knew about Snoop. I make the comparison now.) He always had a 45 in his guitar effects case. (How did I know–I discovered it like a snake under a doormat when he asked me to grab him an E string one night!)
As I was coming out of the dressing room, walking to the stage dutifully, per order of Dion to play with some "English guy," I am stopped by Rick Sudakoff, an A&R guy for Atlantic Records, who is also a big fan of our band. He says casually, "Joanna, I want you to meet Jimmy Page." Page was with Rick, on tour with the Firm on that late May night. Jimmy was sitting right in front with a small entourage of women. He rose up (all maybe 5'7 of him) and shook my hand. Now, my memory is a little foggy because I don't remember exactly what he said, but I can still conjure up the pounding of my heart, the instant adrenaline rush and his sweet and somewhat shy smile.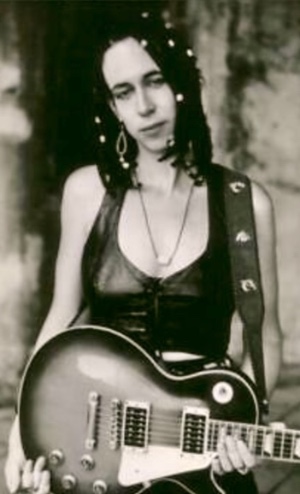 This is the English guy. Gulp. I'm about to jam with my guitar hero.
The band included Sugar Blue, a wizard of a harmonica player (you know his iconic riffs from The Rolling Stones "Miss You") the late Valerie Wellington ( the living incarnation of Bessie Smith, so help me) Murphy Doss ( our bassist) our drummer Sam Goode, and Frank Pellegrino on keys, the MC and the son of Doc Pellegrino, the owner and founder of Kingston Mines.
As soon as the audience sees Jimmy Page (who is standing right next to me, sigh…) they rush frantically toward the stage. We played four or five blues standards. Jimmy is smiling ear to ear. He didn't hear Sugar Blue kick off the Sonny Boy Williamson classic "Help Me" with the key signature of A minor. Mr. Page leaned into my ear with his heavy and intoxicating British accent and asks, "What key are we in?" Once again–sigh, I felt his breath on my neck… I'm literally flying up there …
Jimmy digs in several times, burning up his solos, a prodigal son coming home to his beloved father–the Blues.
We hugged when the sequence was over. Jimmy was cuddly, shorter than me, but he stood as tall and mighty as I always thought he was as a young girl staring at his pictures, seduced by music, fueled by his guitar, songwriting and producing mastery. Unfortunately, there were no cell phones back then so nobody brought a camera like they do now to go dance to blues, drink booze and talk loud (the mantra of the club.) However that night remains a fantasy come to reality. I will never forget it. Jimmy Page was and still is my number one guitar influence and hero. I'm absolutely grateful he is still with us and even more thankful for what he gave all of us. And I will  treasure that night always.
About Joanna Connor
Massachusetts native, now residing in Chicago, Joanna Connor, slide guitar virtuoso, singer-songwriter is a fierce musician known as the Queen of Blues/Rock guitar. She has 13 albums to her name with her most recent, Rise, (2019) released to critical acclaim on M.C. Records. Joanna has played with just about everyone of note, including Jimmy Page, Buddy Guy, James Cotton and Junior Wells. Debuting at the club Kingston Mines in the 80s, she played there three nights a week ever since, in between gigs at larger clubs and festivals before the onset of the pandemic. An aggressive blues/rock guitarist with a tight groove and flavors of jazz and funk, Joanna Connor is one of the most powerful female musicians today. Joe Bonamassa produced her upcoming album, a release that's generating a lot of excitement. For more info see Joanna Connor website.